Weddings
The 5 Bridal Flower Tips You Need To Know
May 7, 2018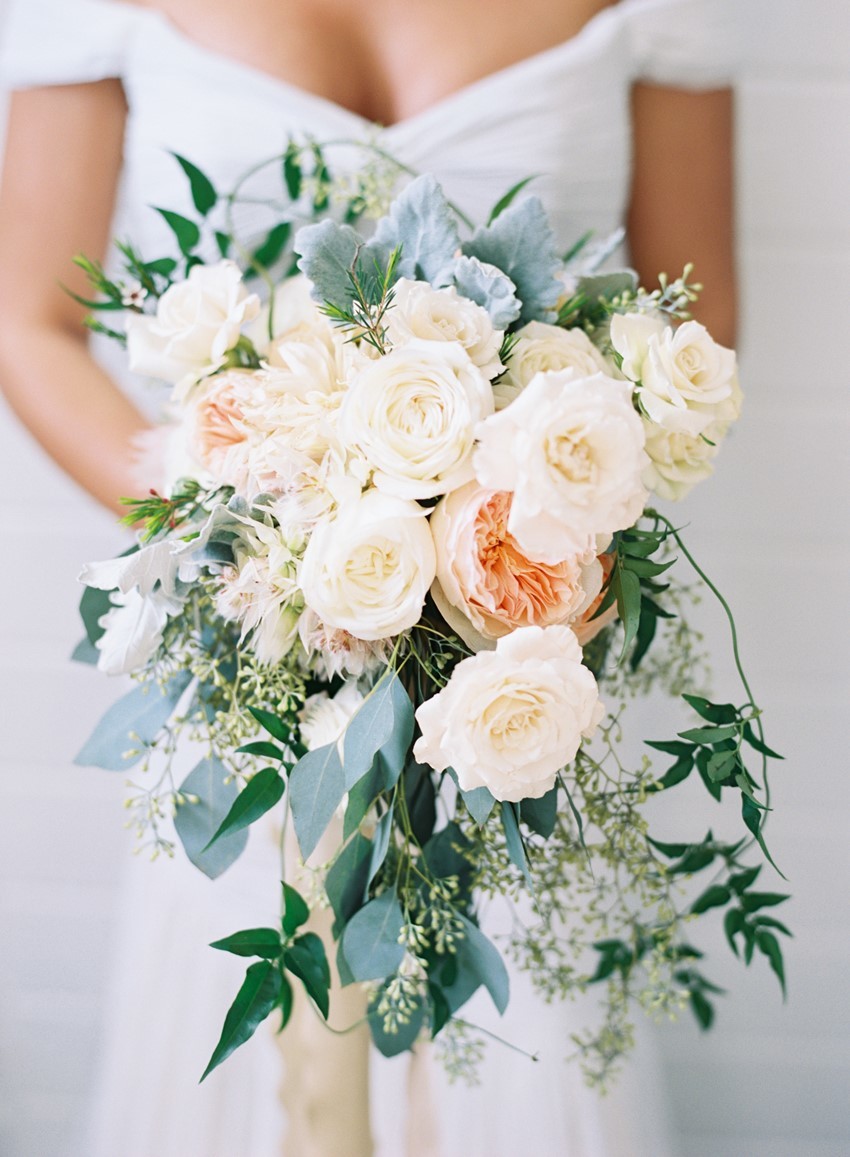 For many brides, flowers are one of the most important parts of their wedding day. From table centerpieces to the bridal bouquets, corsages and boutonnieres, there is a lot of coordination that has to be done. If you focus on checking the boxes of these 5 keys to wedding flowers, we guarantee the bridal party and flowers will coordinate flawlessly for a beautiful look.
1. Consider the season
Ordering blooms out of season can get pricey, especially if you have a large bridal party. Look to flower experts for information on what flowers bloom best during the month of your wedding, and consider choosing from those options. This will also help make sure you don't have any wilted or off-colored blooms.
2. Explore greenery options
Greenery is an amazing way to break up different colors and create a gorgeous backdrop for bouquets, boutonnieres and corsages. If you've attended one of our classes, you know that we start our signature arrangements by "greening our base". Foliage stems help stabilize everything else to come. Greens like ruscus, eucalyptus and ferns, are the same types florists use to create texture and movement. Plus, you never have to worry about symmetry - nobody's perfect, not even Mother Nature! Check out this post on floral boutonnieres for inspiration.
3. Browse for inspiration
As mentioned before, there are many blog posts and sites out there that can help you figure out what exactly you're looking for. Look around and see what flowers most capture your attention, and use them as a basis for creating your arrangements. We're always putting out tips, tricks and ideas for fellow flower-lovers. Check out the weddings section of our blog and see for yourself!
4. Coordinate with clothing
Your wedding party will likely be in a lot of your wedding photos, so make sure they're flowers coordinate with the colors of their attire. If you have neutral blooms, consider patterned dress shirts for a pop of color. Floral prints are the "it" pattern this season, so this might be the perfect ensemble. Look to bridesmaid dress sites that have the same style dresses available in many different colors, so you don't have to sacrifice your favorite style to match your flowers.
5. Pull from the bridal bouquet
When it comes to flowers, the bride's bouquet always steals the show. It's the main focal point and typically bigger than the bridesmaids' arrangements, the bride will hold all of the flowers that she wants to have in her wedding, whereas smaller arrangements might only hold a couple types of flowers and greenery. When deciding on flowers for the bridesmaids and groomsmen, look to the bridal bouquet and pull choices from that to make sure the entire party coordinates with the couple.