Weddings
How to Incorporate Wildflowers Into Your Wedding
May 30, 2017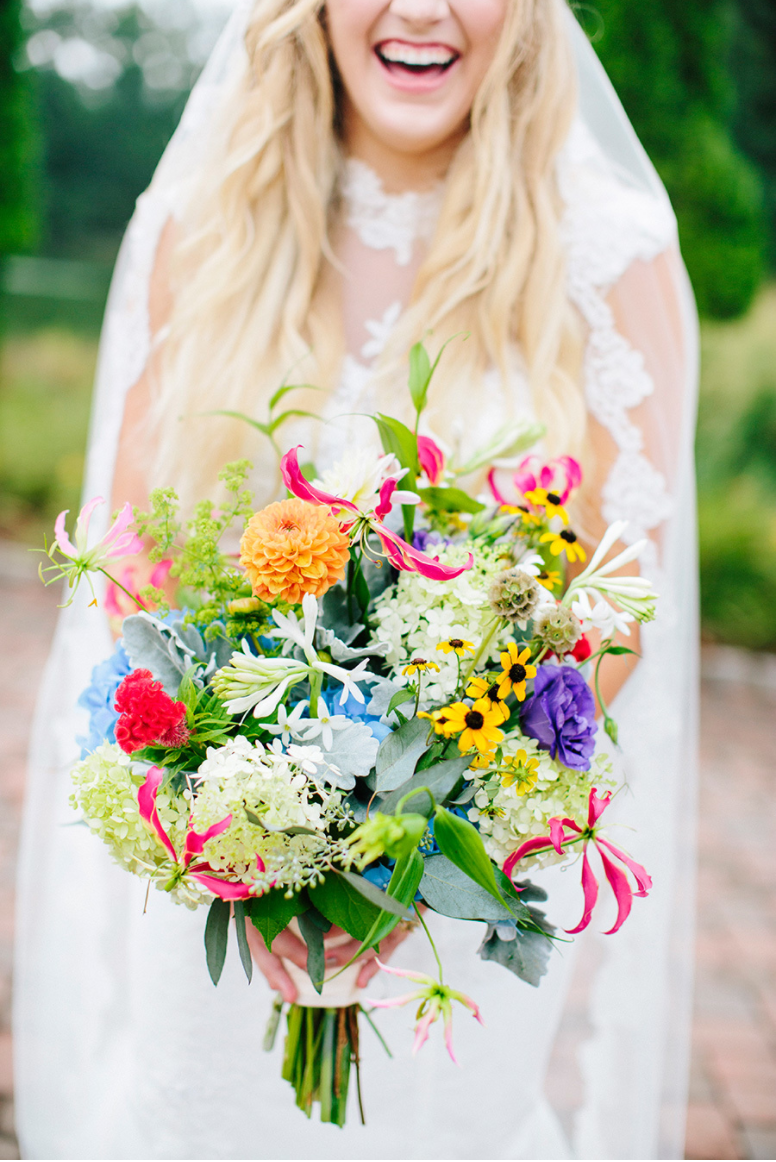 Today most wedding arrangements are highly curated and hand selected to ensure perfection on your wedding day. However, flowers are naturally imperfect, that's what makes them beautiful right? Instead of picking from this season's "it" flowers, swap a highly manicured bouquet, for wildflower-inspired blooms. Wildflower-inspired arrangements are more sustainable and most often budget-friendly -- so if flowers are your splurge, you can have even more!
We love wildflowers because of the surplus of varieties, from the ever-classic sunflowers to more subdued chamomile there's a bloom for every taste! If you're new to wildflowers and are unsure about what blooms you might like, we suggest heading to your local farmer's market. You can browse endless wildflower inspiration from local farmers, and you may even find a vendor for your wedding! Below we're sharing some of our favorite wildflower blooms and the best way to incorporate them into your big day!
Dahlias
Without a doubt, dahlias, specifically dinner plate dahlias, are one of the most show stopping wildflowers. Available in an abundance of colors, this variety is in peak season May through October, which aligns perfectly with wedding season. Coincidence? We think not!
We love using dahlias as the showcase flower, accompanied by more delicate filler like roses, greenery, and even berries. They also make great centerpieces or you can, add them to your cake!
Clementine Branches
Clementine Branches are a well-loved fruit which don't particularly grow in the wild. We love using it as a non-traditional filler to accompany wildflowers for spring and summer weddings. Clementine branches are perfect in a lush centerpiece: place the branches so the leaves and fruits drape over the edge of the vase, creating an overhang when placed in a wider brimmed vase. We suggest pairing this variety with white and pink daisies and orange daffodils.
Queen Anne's Lace
Many people mistake this wildflower for baby's breath, Queen Anne's Lace features a bigger flower that perfectly fits into a more rustic wedding, or greenery focused bouquets. Don't let this delicate flower fool you, when paired with the right vase, this variety can be quite dramatic. If you're hoping to DIY your wedding blooms, this variety makes it easy, you only need to add a few stems to each bouquet. It creates the perfect subtle backdrop for any vibrant blooms you want to showcase.
We love pairing Queen Anne's Lace with coneflowers, and green and pink chrysanthemums. However, if this flower doesn't fit your bouquet aesthetic, try creating flower girl crowns! It's hearty stems, act as the perfect base, for the most adorable flower girl accessory.
Chamomile
Delicious as a calming tea, this flower is also a beautiful addition to any arrangement, it may even soothe some pre-ceremony jitters! Blooming in June and July makes it the perfect flower for a mid-summer wedding. Chamomile can be beautiful on its own; wrap the stems in burlap, for an instant rustic feel or use as a filler for boutonnieres. If you want a larger, more "wild" look, try placing individual chamomile stems randomly throughout your bouquet to provide depth and unpredictability.