Flowers
How To Arrange Sunflowers | Alice's Table
June 26, 2017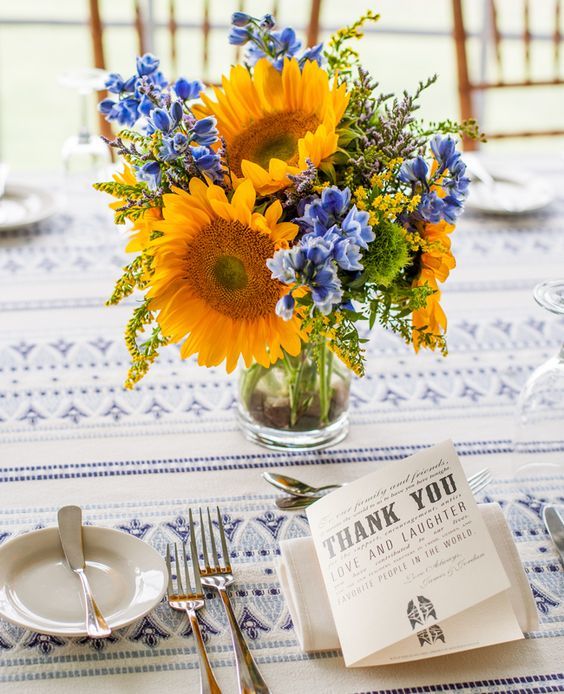 It's hard to argue that any flower welcome the summer months better than sunflowers. Their bright sunny blooms perfectly bring the outdoors, indoors, especially when those few rainy summer days hit. Whether you're throwing a summer bbq or heading to a summer brunch, sunflowers meet the mark for any celebration. With our guide to this summer bloom, you'll already be planning a plot for them next summer.

Why We Love Them
Easily found at farmers markets and grocery stores, these blooms won't break the bank and pack a punch as an effortless tabletop arrangement, no green thumb required! With their bright faces and quintessential look, sunflowers are extremely popular as cut flowers and can often be found in floral arrangements through the fall.
Care Instructions
If you're picking sunflowers from your garden, try to cut them a few hours after dawn when they're best hydrated! Picking them midday, when the sun is highest, most likely will result in droopy flowers.
Before you begin prepping your blooms, place them in a bucket of water so they remain hydrated. Start by removing all leaves below the water line to avoid bacteria in the vase. When snipping the stems, cut at a 45-degree angle and eight inches from the base. When they are cut and ready to display, place them in a vase of warm water. Unlike many other flowers, sunflowers do better when placed in warmer, not room temperature tap water!
Display Your Bouquet
Sunflowers have naturally long and arched neck, so we suggest arranging them in a vase that can support their height, we love using pitchers or tall mason jars. Trim the stems so there are only a few inches showing above the rim of the vase. Due to the magnitude of their blossoms, sunflowers require no fillers, but if you're looking to spruce up the arrangement, try adding some greenery!
Contrary to their name, cut sunflowers keep best when displayed in a cool place out of the direct sunlight. Make sure to refresh the water every day and top of with plant food for longer lasting blooms! This keeps your sunflowers well hydrated, which helps to support their heavy head weight. While we love the darker varieties, the classic yellow and orange sunflowers tend to last longer when cut.
Fun Fact
One species of sunflowers that can be found in woodlands alongside creeks and can grow up to 6 feet tall has been endangered since 2014!