Flowers
Floral Spring Brunch
March 22, 2017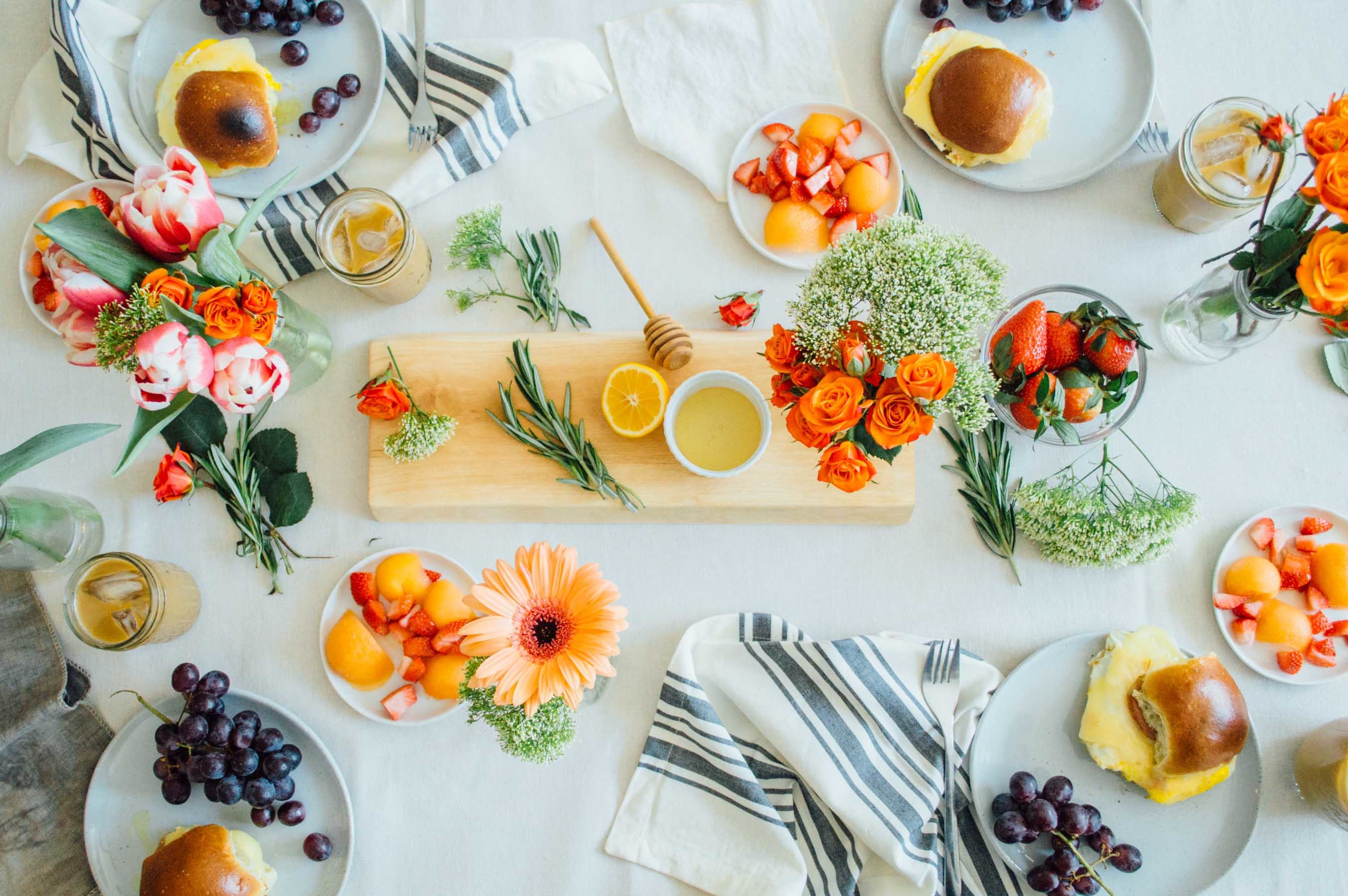 By the time March comes around, we're totally ready to toss our winter stuff out the window. We're tired of the grays and blacks, the dead trees, the only being able to see flowers indoors. So, how do we like to brighten things up, you ask? With a floral spring brunch, of course! So we couldn't be more excited to have blogger Gabi Valladares of By Gabriella share this recent, drop-dead gorgeous brunch she pulled together in under an hour (!).
"Brunch is one of my favorite ways to enjoy company at home," she says. "There's something so relaxed about brunch—it's not a rushed dinner after work, nor is it a late-night event where everyone is either up and at 'em or yawning at the table. Brunch calls for cold brew, mimosas, delicious breakfast food, and good conversation." Here's how to throw your own!
Prepping for a Floral Spring Brunch (In Under an Hour!)
Start the day before
"When we hosted our own floral spring brunch, I picked up the flowers the day before. I also went a little crazy with picking out new (slightly speckled) plates at Crate & Barrel, but that's a story for another day. We had the food portion of the brunch all figured out the day before the actual brunch, and even set the table the evening before as well. We laid out all the plates, all the glasses we would need, the (necessary) fabric napkins, and of course—the flowers."
Small floral arrangements are key
"Instead of creating a single centerpiece, I opted for small floral arrangements. That doesn't mean you have to go buy several small arrangements—that gets expensive! Instead, pick out a bunch of blooms to serve as your 'featured' flower, a bunch of greens, a bunch of smaller accent flowers, and one standalone star of the show. I opted for flowers in a warm color palette because it seems like it's been all cool-blue and gray hues outdoors, and I wanted to warm things up.
Once you've got your flowers picked out, take stock of what you have for glassware. I used a few small old-school milk bottles, a mason jar, and a canning jar. Cut your flowers at varying lengths and start arranging them. Don't keep all the arrangements the same, though. Switch 'em up! Not all of the types of flowers you picked out have to go in every small arrangement—and odd numbers of flowers are the way to go."
Keep it simple
"Sure, brunch is about indulging. Well, at least it is for me! But, if you're hosting, keep it simple and avoid the stress. First, select a featured food—I went with a delicious breakfast sandwich inspired by my favorite local café. Next, choose your fruits and make them stand out. I placed a bunch of grapes on each plate to fill up the space (and also because grapes are delicious). Then I served a side plate of cantaloupe and fresh strawberries, topped with a spritz of Meyer lemon and a drizzle of honey. The fruit was so simple and easy to prep in advance, yet it stood out because it wasn't your run-of-the-mill fruit bowl."