Weddings
How to Design Your Wedding Dinner Without Breaking The Bank
July 6, 2018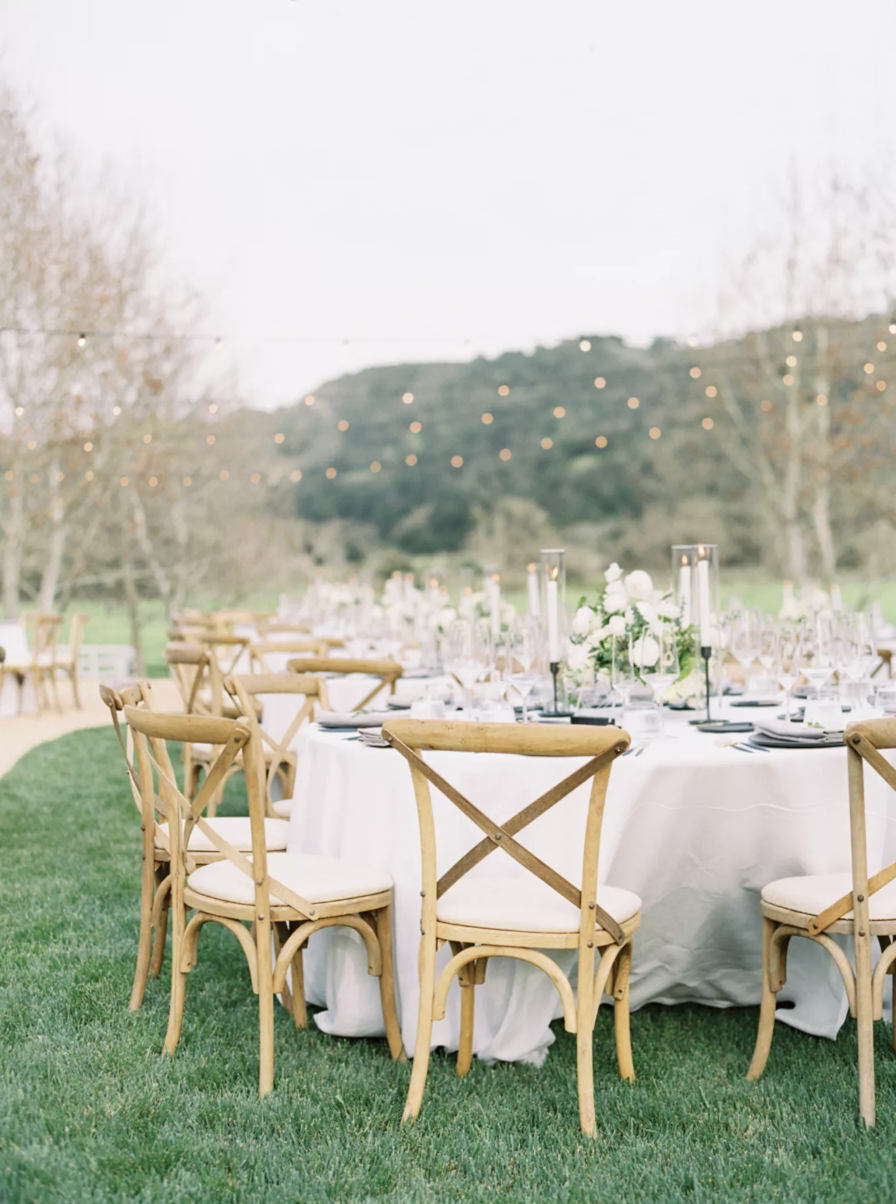 The average price of catering rings up to $70 per person. Multiply that by 136, the average number of guests, and you're facing a food bill of $9,520, at least - gulp. And if we lost you way back at the $70 per person cost, we're here to say that you can come back from the land of heart attacks to find some of the cash-saving tips our team has learned along the way.
When it comes to planning a wedding, it's all about knowing your priorities and using your money wisely. If you've been dreaming of that Kimye-level flower wall since 2014 and an over the over-the-top cake, go for it. We're here to say you can have your cake and eat it too. Read on for our go-to practices we swear by for any bride-to-be.
Serve Signature Cocktails
Most reception venues charge for every bottle opened, meaning if your Uncle Joe had one scotch on the rocks and everyone else was drinking gin and tonics, you bet you're paying for that bottle of booze.
Our recommendation? Save thousands (we're not kidding) by serving only a few signature drinks. Even better, a few signature drinks that all feature one type of alcohol. With clever names and seasonal flavors, these cocktail recipes might just be the personal touch you and your groom have been looking for. Work with your venue to design cute drink menus to have at the bar, and we promise, your guests won't even bat an eyelash.
Save The Fancy Sh*t
We like to say that some heroes, wear capes and some pop bottles (guess which camp we're in?). And on your wedding day you should be popping that bottle of Dom Perignon left and right. The key word here is "you", not your 300 guests. Save the good bubbly for the toast and for you and your new partner in crime. Once you've raised a glass and the party is in full swing, swap the fancy stuff for a less expensive option (cheaper doesn't always mean worse!), no one will ever see the bottle or know the difference.
Pass on the Passed Apps
We're all about that hors devours life, I mean how can you not say no to a bacon-wrapped something or a chic mini hot dog. And while you'll never find us saying no to a good passed app, if you're really trying to save money on food, this is the perfect place to cut down.
Say buh-bye to a couple hours of staff labor and a lot of money for a little food, and you'll never look back. Instead, set up a cheese station or a bread and olive oil station for your guests to snack on before dinner. Or put part of that budget towards an 11 o'clock snack, which realistically you'll be much happier to see. Our Founder and CEO, Alice, had a midnight taco stand at her wedding, nobody was complaining.
Buffet vs. Plated
Ask any bride her choice on dinner and we can guarantee you'll be met with a strong opinion and the reason she would never have the later. We're often told that buffets require less of a hefty price tag then a plated meal, but if you actually crunch the numbers, it's often by a very small margin. A buffet may require less server staff, but the food cost often increases since your caterers preparing a larger, less-predictable volume of food. Our suggestion? Opt for family style. Your guests can choose exactly what they want to eat, the food will be just a good, and often creates a more welcoming vibe at the tables who don't know each other well.
Pro tip: there are major savings in the suburbs. If you're getting married in a major city, try booking a less-expensive caterer based in a nearby suburb who's willing to travel for your event. You could end up saving double digits on each plate.
Wedding bells in your future? Learn more about our assisted-DIY wedding offerings!