Entertaining
Spiced Pear & Ginger Pitcher Cocktail
October 5, 2017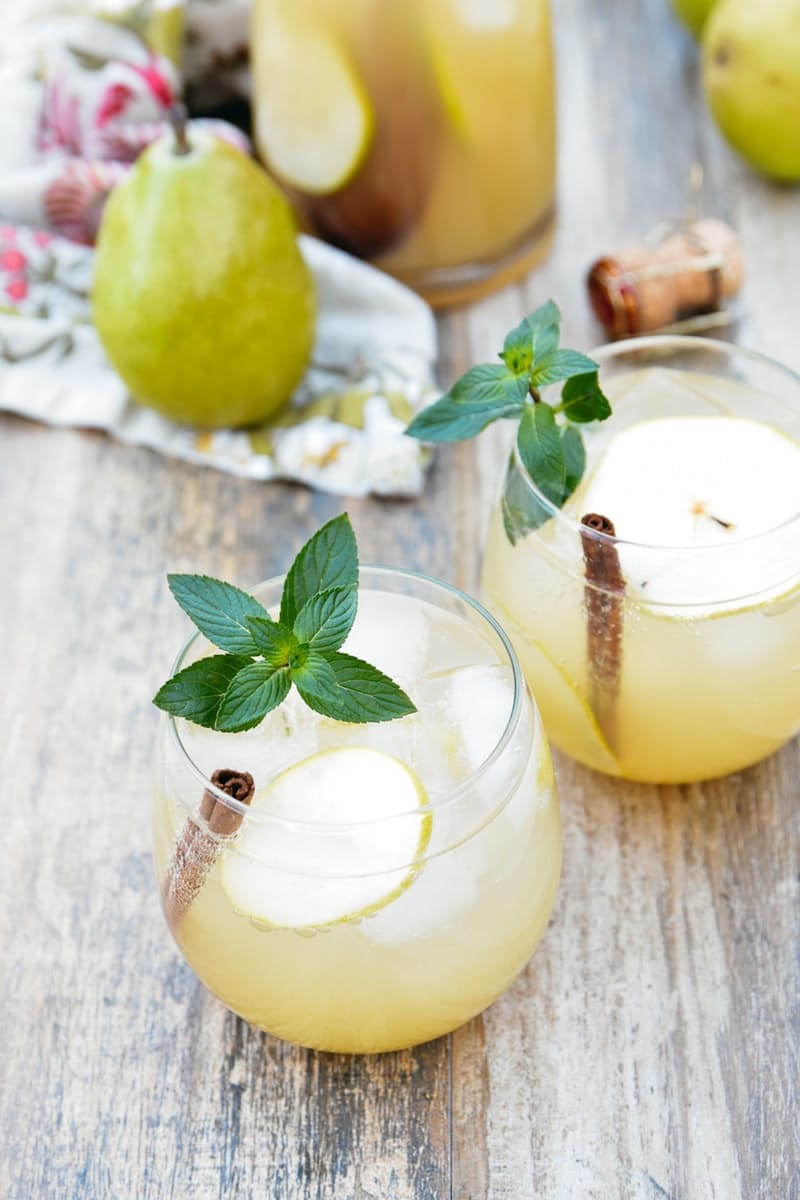 With shorter days and cooler nights, there's no denying fall has arrived. What better way to welcome the new season, then with a dinner party-worthy cocktail, celebrating one of the best fruits of fall!
Recipe courtesy of The Kitchn.
Ingredients
1/4 cup honey (2 ounces)
1/4 cup water (2 ounces)
2 cinnamon sticks
3/4 cup Grey Goose La Poire vodka (6 ounces)
1/4 cup Domaine de Canton ginger liqueur (2 ounces)
1/4 cup freshly squeezed lemon juice (2 ounces)
1 1/4 cups fresh pear juice (10 ounces)
1/4 cup cinnamon-honey syrup (2 ounces)
1 teaspoon vanilla extract
1 1/2 cups chilled soda water (12 ounces)
2 1/2 cups chilled dry sparkling wine (20 ounces)
1 to 2 pears, sliced for garnish
6 to 8 cinnamon sticks, for garnish
6 to 8 fresh mint sprigs, for garnish
Ice
Directions
For the cinnamon-honey syrup, combine the honey, water, and cinnamon sticks, in a small saucepan.
Bring to a slow boil over medium-high heat and then lower the heat to a slow simmer.
Simmer for 10 minutes, remove from heat, and let cool completely.
Remove the cinnamon sticks.
In a large pitcher or punch bowl, combine the pear vodka, ginger liqueur, lemon juice, pear juice, cinnamon-honey syrup, and vanilla extract.
Stir until incorporated and chill in the refrigerator until you're ready to enjoy. You can even make this portion of the cocktail a day ahead and store it in the refrigerator; just give the mixture a good stir before serving.
When you're ready to serve the cocktail, fill your pitcher or punch bowl with ice and add the chilled cocktail mixture.
Quickly top with the sparkling wine and soda water and give the mixture a gentle stir.
Prep individual cocktail glasses with ice, add the finished sparkling pear cocktail, and garnish with pear slices, mint sprigs, and cinnamon sticks.