Entertaining
Hosting Hacks for Entertainers In The Making
November 6, 2019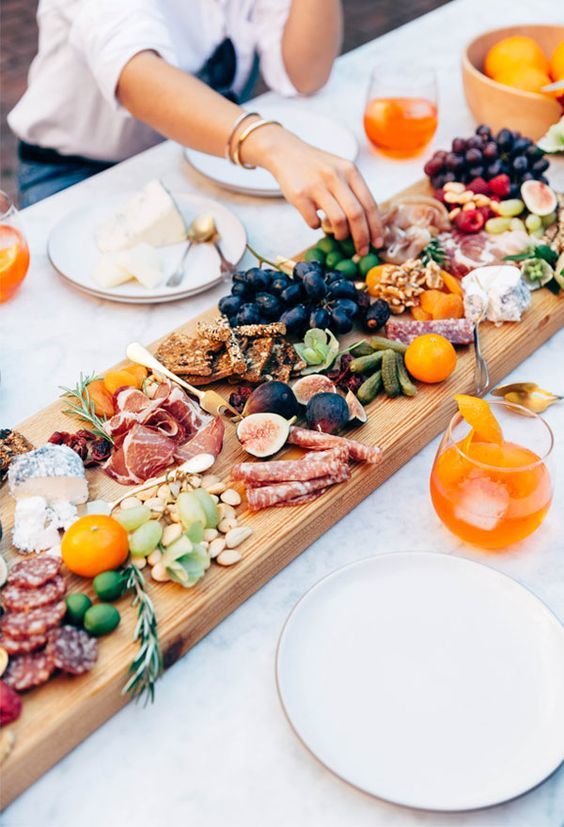 HQ recently celebrated our 3rd birthday at the (brand spanking new!) home of our Founder and CEO, Alice. And we're not kidding when we say "new"... the painters left 15 minutes before the team arrived. But needless to say, we arrived to a beautiful set up that made us feel right at home - Alice left no detail out.

After a few years of hosting hundreds of events, we've learned that what guests ultimately remember (and look forward to) is great food, a good drink (or two!), and most importantly, good company. And as we approach the season of entertaining, there's nothing better than sharing our tips and tricks with those who love a good party as much as we do.
Welcome Wagon
First impressions are important, no matter if it's your BFF of 25 years or your new next door neighbor.
Greeting guests upon arrival with a glass of bubbly, is a gesture we guarantee no one will shake their head at. Plus, it will make your job easier when you know everyone at the party has a drink in hand. After the initial welcome toast, set up a self-serve area where party goers can help themselves later. Stick to wine or come up with two easy signature cocktail that you can premake and serve in karafs - here's one of our faves:
Ingredients
24 ounces fruity red wine
12 ounces citrus vodka
24 ounces pomegranate juice
3 ounces blackberry liqueur
18 to 24 ounces ginger beer
Fresh mixed berries
Frozen mixed berries
Directions
In a large pitcher or punch bowl, combine the red wine, citrus vodka, pomegranate juice, and blackberry liquor. Stir until incorporated and chill in the refrigerator until you're ready to enjoy.
When you're ready to serve, fill your pitcher or punch bowl with frozen berries and the chilled cocktail mixture. Quickly top with the ginger beer and gently stir.
Enjoy!
Skip The Ice
On that note, for the love of god, skip the ice. We've seen too many accidental puddles or ice runs mid-party, that are easily avoidable. Favor something more festive, like frozen grapes, berries or even lemon and lime wedges. The drinks will stay cold and look fabulous.
Mix and Match Baby!
Large party? Embrace the uncoordinated! No one expects you to have dinnerware for 60, this isn't the Queen's birthday folks. Mix and match your collection of prints and solids, vintage and new. Scatter them throughout the table and try to have a common thread. For example, if the plates are all different, have the same matching napkins. If you have mismatched glassware, try alternating matching ones at each setting. A lot of people wait to start entertaining until things are perfect, but things are never perfect, and if you think about it, your best memories are the parties where presentation wasn't the priority.
Grazing Table
Appetizers, or no appetizers, that is always the (highly-debated) question. Would everyone like a scallop wrapped in bacon? Yes. Does everyone need a scallop wrapped in bacon? No (however, agurable). Will anyone look at you differently for not serving scallops wrapped in bacon. Not a chance. Our advice? Stick to a classic, a good ol' grazing table. By setting up a enviable spread, you'll make room for more conversation and mingling, and will stress less on the exact flow and schedule of the party - a win win in our book. And if you're like us, and find yourself staring at the charcuterie selection in a daze, we've got a tried and true list, that never leaves leftovers.

Cheese: Feta, Goat Cheese, Cabecou, Manchego, or our team fave, Truffle Cheese
Meat: Salty Cured Meats like Prosciutto, Serrano Ham, and Country Ham
Nuts: Marcona Almonds, Rosemary Almonds
Fruit: Green Grapes, Dried Apricots, Green Figs, Pears, Green Apples, Mild Green Olives
Make Your Arrangements The Day Before
No party, is an Alice's Table party without fresh flowers, but we'll be honest the last thing anyone needs is to be running from store to store the hour before guests arrive. Contrary to popular belief, your flowers will be just fine, if you make an arrangement ahead of time. Depending, on the flowers, they might actually look even better. If you're looking for something easy peasy, stick to an all white palette. Sticking with fewer colors is key for creating a polished, cohesive look. Plus, we'll let you in on a secret, you can't really screw it up.
And if budget is a consideration, you don't have to do over the top flowers. Add some greenery or flowering branches and candles in the center of the table in place of flowers.