Entertaining
How to Throw a Glamorous Spring Brunch
April 10, 2019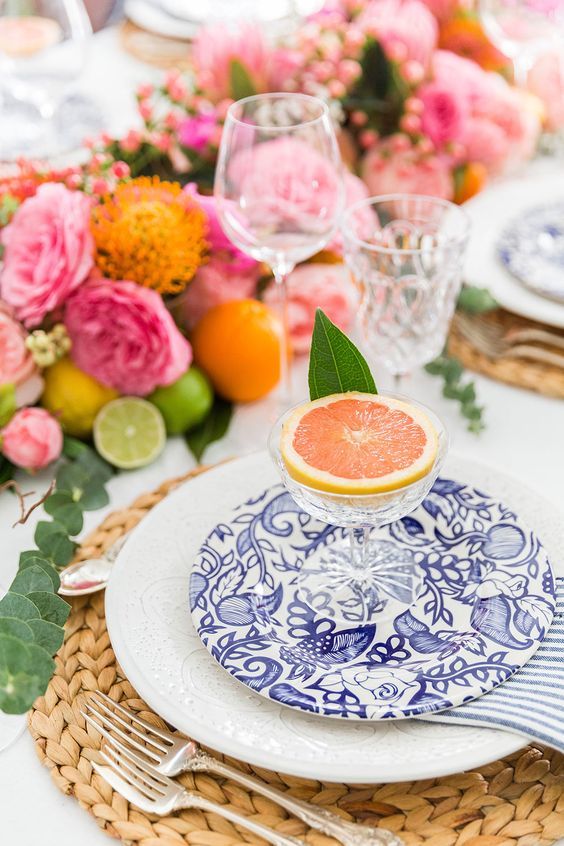 Throwing a brunch can be intimidating. You've got to create the menu, select a cocktail (or two), and ensure that everyone has enough food, sips, etc. And you're 'supposed' to do this all while enjoying the brunch yourself! It sounds like quite the challenge if you ask us.
But after a few years of hosting hundreds of events, we've learned that what guests ultimately remember (and look forward to) is great food, a good drink (or two!), and most importantly, good company. And as we approach the season of spring entertaining, there's nothing better than sharing our tips and tricks with those who love a good party as much as we do.
Create a simple, make-ahead menu.
Nobody needs a quiche overflowing or the potatoes burning, ten minutes before company walks through the door. Always test your recipes before the big day, and then to make things even easier, find recipes that can be made in advance. A "glamorous brunch" doesn't have to be complicated, its all about finding the functional classics and simply elevating them.
So with that in mind, we took a childhood (and adulthood, if we're being honest) favorite, and made it in less than an hour the day before. But we didn't stop there. Instead of opting for the classic homemade pop tarts recipe, we made our foodie dreams come true by whipping up floral pop tarts with a rose icing.
Ingredients
2 refrigerated pie crusts
1 cup jam (we used rose apricot jam)
1 tablespoon cornstarch
1 egg
1 cup powdered sugar
2 tablespoons heavy cream
1 teaspoon rose water
Food coloring (if you'd like)
Directions
Preheat your oven to 400 degrees and line a baking sheet with parchment paper.
Roll out the pie crusts and cut the edges off to make a square. Then, cut each square into 3 equal strips.
Mix jam with cornstarch and spoon it into one side of your pop tart 'shell'. Spread it out a bit, but be sure to leave room on the sides to seal the pop tart.
Crack egg into a bowl and beat until mixed. Brush egg wash around the edges with the jam, and fold the dry end over the egg wash to seal the pop tart. Use a fork to make indents around each edge of pop tart.
Bake for 15-20 minutes (keep a close eye on them so they don't overcook!).
Once golden, remove from the oven and let cool on a rack.
While pop tarts are cooling, mix powdered sugar, rose water, heavy cream, and just a dash of food coloring (the food coloring is up to you! I used the tiniest bit of red to get that lovely pink color) until combined. Brush icing over pop tarts and enjoy!
Mix and Match Baby!
Large party? Embrace the uncoordinated! No one expects you to have dinnerware for 60, this isn't the Queen's birthday folks. Mix and match your collection of prints and solids, vintage and new. Scatter them throughout the table and try to have a common thread. For example, if the plates are all different, have the same matching napkins. If you have mismatched glassware, try alternating matching ones at each setting. A lot of people wait to start entertaining until things are perfect, but things are never perfect, and if you think about it, your best memories are the parties where presentation wasn't the priority.
Incorporate fresh flowers without the high price tag.
If you're like us, flowers are at every occasion, big or small. Between busy work days and hectic weekend errands, a trip to the florist or farmer's market can be out of the question, let alone not very economical. Grocery store flowers can get a bad rap, but if you head into the store with a few simple tricks in mind, blooms from the store can be transformed into florist-worthy arrangements (and don't require a separate line item on your to-do list or your budget).
Color coordinate - Grocery store bouquets can look busy and jarring because of overwhelming color combinations and their attempts to pack in many varieties of flowers. Try buying a variety of separate stems in one color and pairing them. We love a simple all-white combination -- it's easy to coordinate, white flower are usually readily available, and always looks more expensive than the price tag.
Show them off - The wrong vase can immediately make your store-bought flowers look sad and droopy. Make sure you're using the right kind of vase for the arrangement, and don't be afraid to use some florist tricks, like creating a tape grid, to keep your arrangement looking perky and professional. And if your flowers need some extra flair, create drama with vase fillers or creative flower holders.
Create that wow-factor with just one thing.
As a hostess the pressure to go overboard is real. But we're here to tell you (from lots of experience!) that if the food and flowers are in check, than all you need is one other decorative element to make it a party. Our go-to? An easy (with a capital E!) flower wall! Perfect for large groups, who may not know each other that well or best friends celebrating. Simply grab an Instax camera or your phone and snap some pics!