Entertaining
Host A Picture-Perfect Galentine's Party
February 5, 2020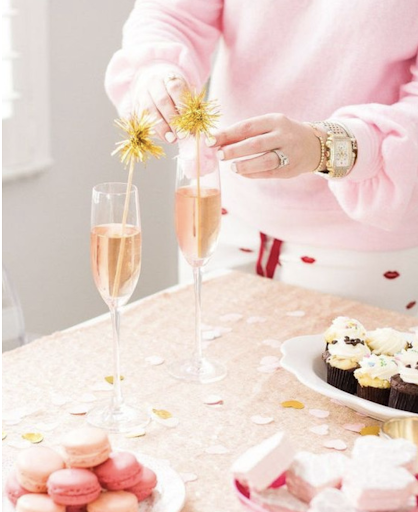 While many people are arranging their Valentine's Day plans with their special someone, we are much more excited about one of the best holidays of the year — Galentine's Day. Best defined by the words of the holiday's creator, Leslie Knope (of Parks and Recreation)!. "Oh, it's only the best day of the year. Every February 13, my lady friends and I leave our husbands and our boyfriends at home, and we just come and kick it, breakfast-style. Ladies celebrating ladies." We can definitely get behind that!
So, when you decide to get your gals together and celebrate Galentine's a la Leslie, it's exciting... until you realize you've automatically fallen into the role of resident party-planner and chief entertainment officer. But before the party planning stress kicks in, we're here to say that with a few hostess hacks and some fun with your local Alice's Table Exec you'll be well on your way to an Insta-worthy celebration. So, grab the Thelma to your Louise, the Laverne to your Shirley, this Galentine's will be one for the books!
Welcome Wagon
First impressions are important, no matter if it's your BFF of 25 years or the gal who just moved in next door. Greeting guests upon arrival with a glass of (pink!) bubbly, is a gesture we guarantee no one will shake their head at. Plus, it will make your job easier when you know everyone at the party has a drink in hand. After the initial welcome toast, set up a self-serve area where party goers can help themselves later. Stick to bubbly or a quick and easy pre-made cocktail - here's one of our faves:
Strawberry Chamomile Fizz
Ingredients
3/4 water
1/3 cup honey
1-2 chamomile tea bags
3 ounces fresh grapefruit juice
2 ounces tequila
4 Fresh strawberries sliced
Sparkling water
Crushed ice
Directions
Combine the water and honey in a small saucepan and bring to a low boil. Simmer together 1 minute and then remove from the heat. Add the tea bag, cover and steep in the mixture for 5-10 minutes. Remove the tea bag and allow the syrup to cool completely. Once the mixture has cooled store it in the fridge.
Add the grapefruit juice, chamomile syrup, tequila and strawberries to a pitcher.
Muddle the strawberries until they are lightly smashed.
Add a handful of ice and sparkling water to top off. If you're feeling snazzy, add a little extra touch by freezing edible flowers in the ice cubes for your punch!
Add a handful of ice and sparkling water to top off. If you're feeling snazzy, add a little extra touch by freezing edible flowers in the ice cubes for your punch!
Setting The Scene
The whole purpose of Galentine's is to spend time with friends, telling stories, eating (all the chocolate) and drinking (all the bubbly) - it's about good ol' fashioned girl time.
Translation: You should not be burning the midnight oil the night before to prepare. Keep it sweet, keep it cozy and keep it simple. Start with one staple piece - a white tablecloth - and build upon it with items you already have. Starting with beautiful and disposable (the key word here) paper goods. We discovered Meri Meri this fall when we celebrated AT's 3rd birthday and have never looked back. Lucky for all of us they've found a way to make paper goods fun and functional. Pick out an appetizer and entree plate - we're obsessed with the pastel heart collection to layer on the table. Next up, glassware. This is one area we actually suggest using the real deal, And if you're in the market for some new duds, these dip-dyed glasses are the perfect addition to any cabinet.
Now, for the centerpiece. Start with a simple table runner, grab a roll of brown craft paper, and cut a piece the length of the table. What comes next is up to you; draw out every guest's name's in place of name cards, opt for white polka dots, whatever you do, make it fun and easy! Then, instead of opting for a food-only table, line the spread down the center on some pretty in pink serve ware. After you've nailed the placement of the bites, spread a few candles in between and little co confetti and you're ready for a fiesta.
Flower Power
No Alice's Table party (and frankly no party at all) is complete without a beautiful floral display. Especially when you're celebrating Valentine's (hello floral mania). And while we have endless tips and tricks to whip up florist-level arrangements before your guests arrive, we also know that we all need a little DIY fix once in a while. So this Galentine's you don't have to worry about the flowers. We'll come to you, set up, clean up (oh yes!) and put on a beautiful flower arranging workshop that everyone can enjoy. Galentine's should be spent cheersing to an A+ group of girlbosses and laugh-crying as your rosé spills over, and we're here to make sure it's unforgettable.
Sweets For Your Sweets, Sugar For Your Honey
The fact that you found a time that you and your gals we're all available is a gift in itself. However, there's something about a little package that really just seals the deal. Plus, when a present has a purpose and is cute, we're all for it. So when The Little Market released these GRL PWR bracelets we were on it. Each bracelet empowers marginalized and at-risk young females in Cambodia. For your pen pal loving gals, Shop Bando, founded by #girlboss Jen Gotch, offers some of the cutest gifting essentials including these compliment postcard books to keep the love flowing all year long. And if you're more if a traditional gal, no guest is going to say no to a sweet little something like gourmet chocolate, especially when it's Compartes.