Entertaining
3 Tropical Cocktails to Bring On The Summer Heat
August 12, 2020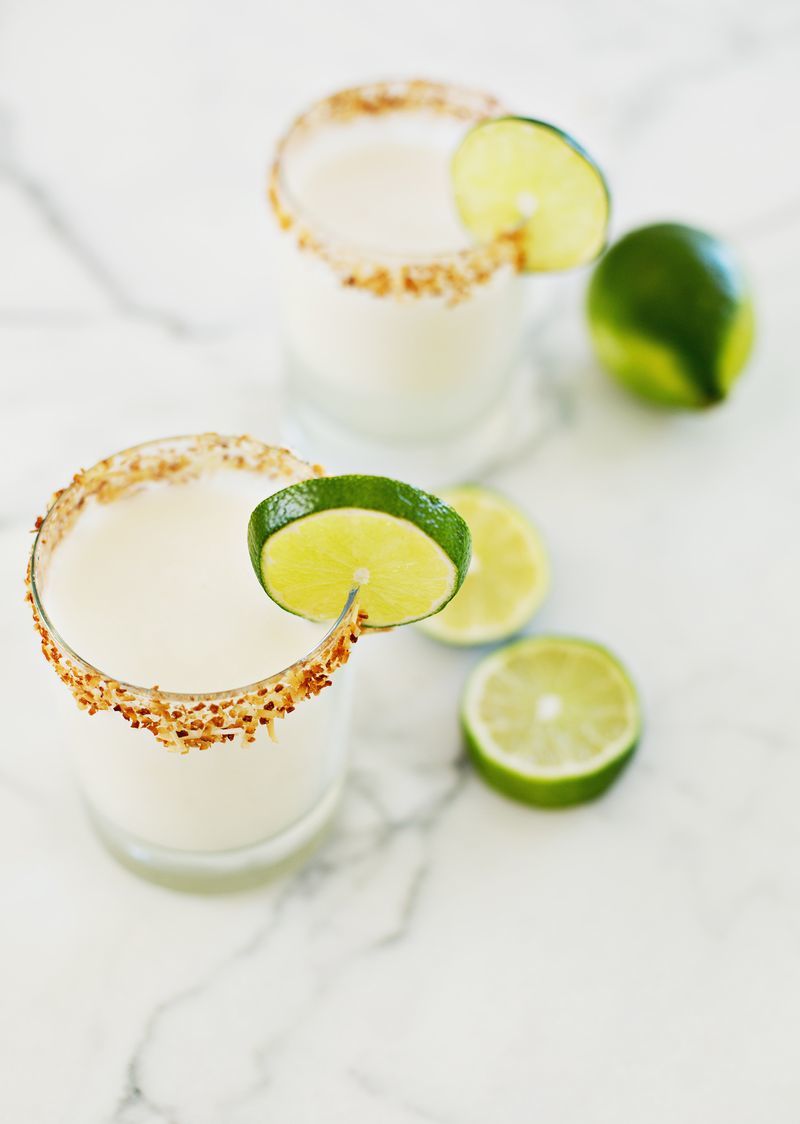 There's little we love more than a summery cocktail. Shake, stir, repeat — um, what's not to love? And just because National Cocktail Day is behind us doesn't mean that we can't continue to celebrate, especially when it involves fresh takes on old classics. So, today, we're sharing three recipes that we'll be sipping' all summer long to beat the heat. Now, all you need is a poolside cabana.

Coconut Margarita

When you can't make it to the beach, it never hurts to bring the beach to you. These coconut margaritas taste like a cross between a Margarita and a Pina Colada - add a little summer breeze, shut your eyes, and you're practically seaside. The perks? No sunscreen, no sand, and plenty of refills.
Ingredients:
1 (15-ounce) can of cream of coconut
1 cup tequila
1 cup ice
1/2 cup lime juice
1/4 cup Triple Sec
1/2 cup toasted coconut
Instructions:
Combine Cream of Coconut, tequila, ice, lime juice, Triple Sec and 1 heaping tablespoon of toasted coconut in a blender. Blend until smooth.
Place remaining toasted coconut on a small plate. Rub a lime wedge around rims of 2 glasses and then press rims into coconut.
Pour Margarita mixture into the glasses.
Pineapple Mango Rum Punch
If there was a cocktail for our summer collection 2019 it would have to be punch, this tasty mix is making a serious comeback and for good reason. So, we thought, what better way to celebrate this classic drink's return, than shaking things up even more? This Pineapple Mango Rum Punch (Yes, you read that right. Two of life's greatest things in one drink.) is a rendition of one of our favorite cocktails at a neighborhood café/bar. Throw some edible flowers on top - we're getting fancy y'all - and voila, you've got yourself one heck of a rum punch!
Ingredients:
3 oz of pineapple coconut juice
3 oz of coconut rum (you can also use light or dark rum here instead)
1 oz of mango juice
1 oz of orange juice
splash of grenadine (mainly just for looks)
lime slices and/or orange zest for garnish
edible flowers for garnish
Instructions:
Combine all juices (pineapple coconut, mango, and orange) and rum. Then stir.
Pour over ice and add a splash of grenadine for color. The grenadine will fall to the bottom and give the drink a pretty ombre look.
Finish with the lime, orange zest, and edible flowers for garnish.
Passionfruit Mojito
We always love cocktails that can be made with a shaker. It means that the steps to make said cocktail are fairly minimal, plus, you look like you know what you're doing. Technically, this Passionfruit Mojito requires an extra step, but it's well worth it because it turns one of the most underrated tropical fruits into the star of this drink. You may want to note that this recipe serves two, so you may want to invite a few friends over. Or, alternatively, enjoy both yourself, we wouldn't blame you one bit.
Ingredients:
4 passion fruit
1/8 cup fresh mint leaves, plus extra for garnish
2.5 tablespoons granulated sugar
3 oz light rum
3 tablespoons lime juice (fresh)
2 ice cubes, plus more for glass
Club soda
Instructions:
Cut open the passion fruit and push through a fine mesh strainer to catch all the juice, press hard against the passion fruit to also catch the pulp. Get as much juice and pulp from the passion fruit as possible. Reserve the seeds. Set the juice aside.
In a cocktail mixer, muddle the mint and the sugar together to help release the oils from the mint. Add the rum, lime juice, and ice, then shake vigorously.
Add ice to your glass (preferably a high ball, but not required) and divide the mixture among the glasses. Top with a splash or two of club soda and stir in the passion fruit juice/pulp. Top with mint and passion fruit seeds for garnish (can eat passion fruit seeds)