Weddings
Skip the Registry: Wedding Gifts You Actually Want to Give Your BFF
March 9, 2018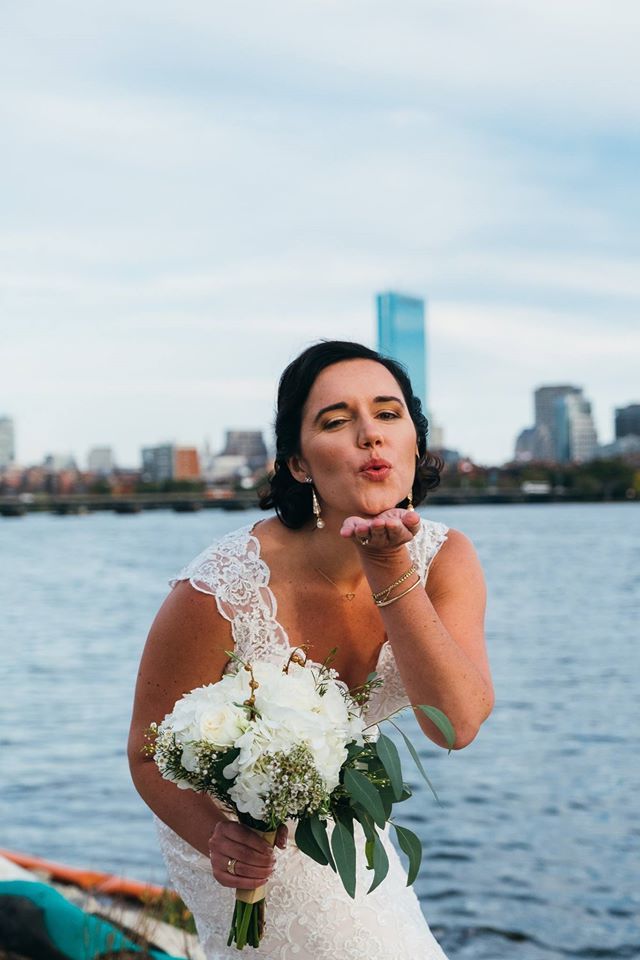 We have our fair share of newlyweds here at the office, so trust us when we say, we know how sacred the registry is. Word to the wise: if their not your BFF, stick with it, never stray from it. You can opt for the classic Le Creuset Dutch oven (she'll only get one in every color) or fancy dinnerware (there's nothing quite like Tuesday night leftovers on fine china). But, we know that often these curated and practical gifts, don't always hold the same sentiment that ride or die lady in your life deserves. Plus, isn't it always so much better to surprise your BFF with something fun she'll actually love (and use)?

So, we tapped the minds of some of our favorite ladies (including our Founder, Alice!) to bring you a few unique, and most importantly, thoughtful, gifts to give to your gal on her special day. Hint, it's all about planning ahead!
Before the big day:
While we wish we could say wedding planning is as blissful as the big day itself, unfortunately it's not all champagne toasts and tastings. Treat your bestie to a series of date nights leading up to the wedding, for her to get out of the house, away from her inbox and to-do lists. In the spirit of wedding plans try your hand at a calligraphy class (hellooo thank you notes!) or flower arranging workshop. Plus, if she's a DIY loving bride, this is the perfect way to test the waters and see if assisted DIY wedding flowers are the best option for her!
For the honeymoon:
The Sp-ahhhhhh

In the last few months leading up to the wedding, your soon to be bride will be so overwhelmed (no matter how many times she tries to convince you otherwise), that making appointments for her honeymoon will be at the bottom of the to-do list. Take that stress off her plate and book the couple a spa day upon arrival, so they can relax after a day of traveling and not have to worry about finding availability. Plus, this treat lets them save their pennies for a nice bottle of champagne or that experience at the top of their wish list.
Food for Thought
I think we can safely say that unpacking and organizing after a long trip is quite possibly the worst chore. And when your newly married gal gets back from her honeymoon, she'll be heading straight for her inbox (if she's anything like us) and sticking clear from the kitchen. Help them plan their post-wedding meal prep by treating them to a month's subscription of home cooking delivered straight to your door from companies like Sun Basket and Hello Fresh. Plus, when they get back into the everyday hustle and bustle, a little forced quality time in the kitchen won't hurt.
For years to come:
A Thing For Her New Bling

Any bride will say she wishes she took better care of her ring, so why not save her some regret later down the line and gift her something sweet that's both fun and functional. A beautiful ring dish for her bedside, the kitchen sink, the bathroom – you name it. It may take her a month or so to temporarily part ways with her new bling, but when she does she'll love having a special spot to put it, and a charming, handmade one at that!
Those Kodak Moments
A gift card may not scream sentimental, but weddings have a hefty price tag (Should we say that one more time? Heffffttyyy), and often the last thing a bride wants to do after the big day is shell out even more. But when it comes to a wedding photo album, that's one area no one should ever have to skimp. Websites like Artifact Uprising, let your BFF create a beautiful and elevated photo album, that she'll have for a lifetime. Write a thoughtful note, include a gift card to design her own and let her have something to look forward to once she settled back in to that post-wedding bliss.