Entertaining
Roasted Butternut Squash Waffles with Balsamic Cranberry Sauce
November 9, 2017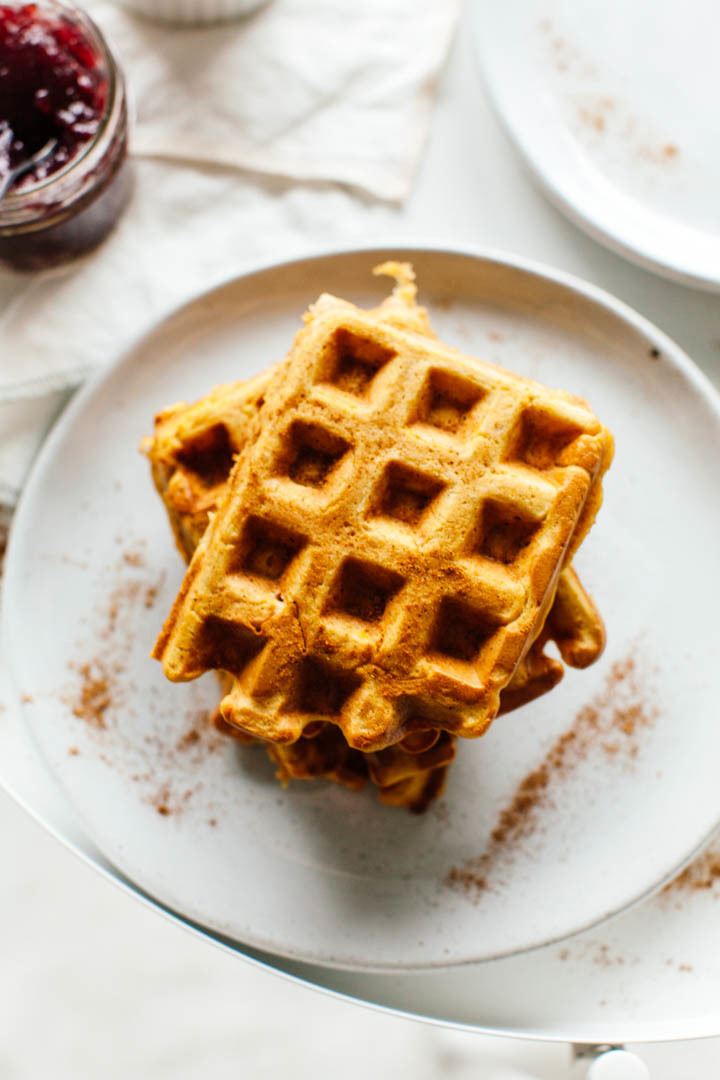 Who else is still not over these delicious fall flavors? We sure aren't, and we're glad our blogger friend, Gabi Valladares, of the entertaining and travel site By Gabriella isn't either! Read on to see how she incorporates butternut squash into her new favorite fall waffle recipe.
"When it comes to breakfast, I'm almost always enjoying it on the go. Whether it's a green smoothie before I head out for the day or an RXBAR post-kickboxing, I never really sit down and enjoy a slow breakfast. However, come cooler weather (still waiting on that here in Atlanta!), I find that I do slow down a bit more. I crave heartier breakfasts like heaping overnight oat bowls and eggs on toast with spinach - and some cheese, for good measure."
"And when it comes to fall, despite the popular vote, I actually don't love pumpkin. No pumpkin spice lattes for me, or any of the other pumpkin-flavored foods that everyone seems to fawn over from September to December - or even longer. Rather, I truly enjoy butternut squash, sweet potato, and tons of herbs (like rosemary and thyme)."
"So, when it came to finding a new slow breakfast that I'll really enjoy, I knew immediately what to use to capture that delicious fall flavor - butternut squash! Butternut squash...in waffles? You bet. Butternut squash is sort of my pumpkin alternative go-to. And better yet, butternut squash comes pre-chopped. Normally I don't spend the extra few dollars for pre-chopped produce when I can prepare it myself, but I get this odd allergic reaction when handling raw butternut squash - it immediately dries out my hands. Though, I've done lots of googling and it appears that it's not all that uncommon. So I suppose it isn't that odd. But that's beyond the point."
"I love butternut squash and I love the winter spices that make everything feel so cozy and inviting. So, I put it all together and whipped up these Roasted Butternut Squash Waffles with a tasty 1-step Balsamic Cranberry Sauce."
Roasted Butternut Squash Waffles with Balsamic Cranberry Sauce
"Now, I almost feel like I'm cheating with this one, but I suppose it's simply more representative of my day-to-day. For example, I'm not making waffles from scratch on a typical basis. Rather, I like to find healthier alternatives - like multigrain waffle mix. I also swap out the milk for unsweetened almond milk, and skip the butter and syrup. I actually really do love syrup, but this Balsamic Cranberry Sauce is a fun fall swap."
Here's how to make your own:
Ingredients
3 cups chopped butternut squash
2 cups multigrain waffle + pancake mix
3 cups and 2 tablespoons unsweetened almond milk, divided
2 egg whites
3.5 tablespoons olive oil
1/2 teaspoon nutmeg, divided in half
1/2 teaspoon cinnamon, divided in half
Pinch of paprika
1/4 cup cranberry sauce
1 teaspoon balsamic vinegar
Directions
Pre-heat oven to 400 degrees. Toss butternut squash with 1/2 tablespoon oil, 1/4 teaspoon nutmeg, 1/4 teaspoon cinnamon, and pinch of paprika.
Roast in oven until browned. Remove from oven and let cool. Once cooled, purée in a blender with 2 tablespoons unsweetened almond milk until smooth.
Mix puréed butternut squash, waffle mix, unsweetened almond milk, egg whites, olive oil, nutmeg, and cinnamon in a bowl with a whisk until combined.
Pour into waffle iron and cook until golden brown.
While the waffles are cooking, mix your cranberry sauce and balsamic vinegar in a pot over low heat until thinned.
Remove waffles from waffle iron and top with cranberry sauce. Sprinkle with a little extra nutmeg and cinnamon. Enjoy!
"And there you have it - an easy way to enjoy a slow, tasty fall breakfast. I hope you enjoy it if you give it a go!"