Weddings
​Our Latest Obsession: Hanging Flowers At Your Wedding
April 24, 2017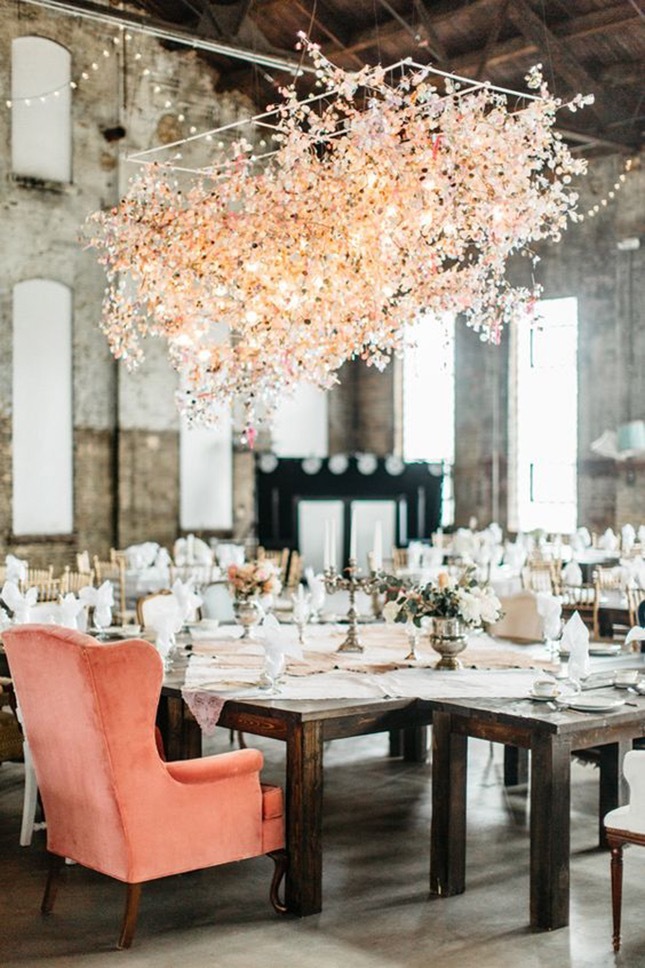 With wedding season around the corner, we can't help but swoon over this season's latest trends; hanging florals! Whether you're a DIY-savvy bride or hiring a local florist, this technique can be adapted to a variety of floral palettes and easily hide any unattractive ceremony features (tent poles anyone?). We're sharing our four favorite ways to incorporate hanging florals at your wedding below!

Floral Chandeliers
We love floral chandeliers for their ability to effortlessly upgrade any table centerpiece. This style allows your focal point to live above the tables -- no awkward conversations between bouquets required!
Chandeliers can be found in almost any antique store, and with a little bit of rehab and the addition of fresh blooms, it's ready to be hung! We also love the idea of creating a faux chandelier by sculpting one with flowers, greenery, and candles. Hang one over the newlywed's table for a sweetheart look or over every dining table for a dramatic design.
Floral Garland
Looking to DIY your wedding florals? Flower garlands are a crafty way to add a colorful backdrop to a reception, while not breaking the bank. Your garland can take a variety of shapes and sizes.e love the ever-popular ombre garland, or a white floral garland paired with greenery for an s added elegance.
The best part of floral garland? It can be easily adapted to any location! Often our initial DIY thoughts can flop when we put them in place. Stock up with wire and string for your wedding day so you can easily string the garlands anywhere.
Floral Ceiling
To no surprise, this trend quickly gained popularity. Floral ceilings offer extravagant elegance in any wedding. This show-stopping floral feature is most often hung over a dance floor, but we love the look of one placed over a banquet-style dinner table, for a cozy, romantic ambiance.
Keep in mind, while we love this swoon-worthy way to hang flowers, it can quickly become a large investment. Talk to your florist to see what options fit into your budget. If fresh flowers aren't in your price range, look into using fresh twigs and fairy lights for a similar look!
Hanging Flower Pots
Easily, one of the simplest ways to hang fresh blooms at your wedding, flower pots are budget-friendly and add a whimsical touch to any ceremony. Terra cotta or white ceramic pots can be found at your local garden store in a variety of sizes to suit any design. We like to keep the planter simple to allow your more delicate, yet still just as colorful, blooms pop. Hanging flower pots don't require as much prep time and can be a fun activity to ease your wedding nerves -- grab your bridesmaids for a DIY day!