Entertaining
Lavender Honey Lemon
August 11, 2017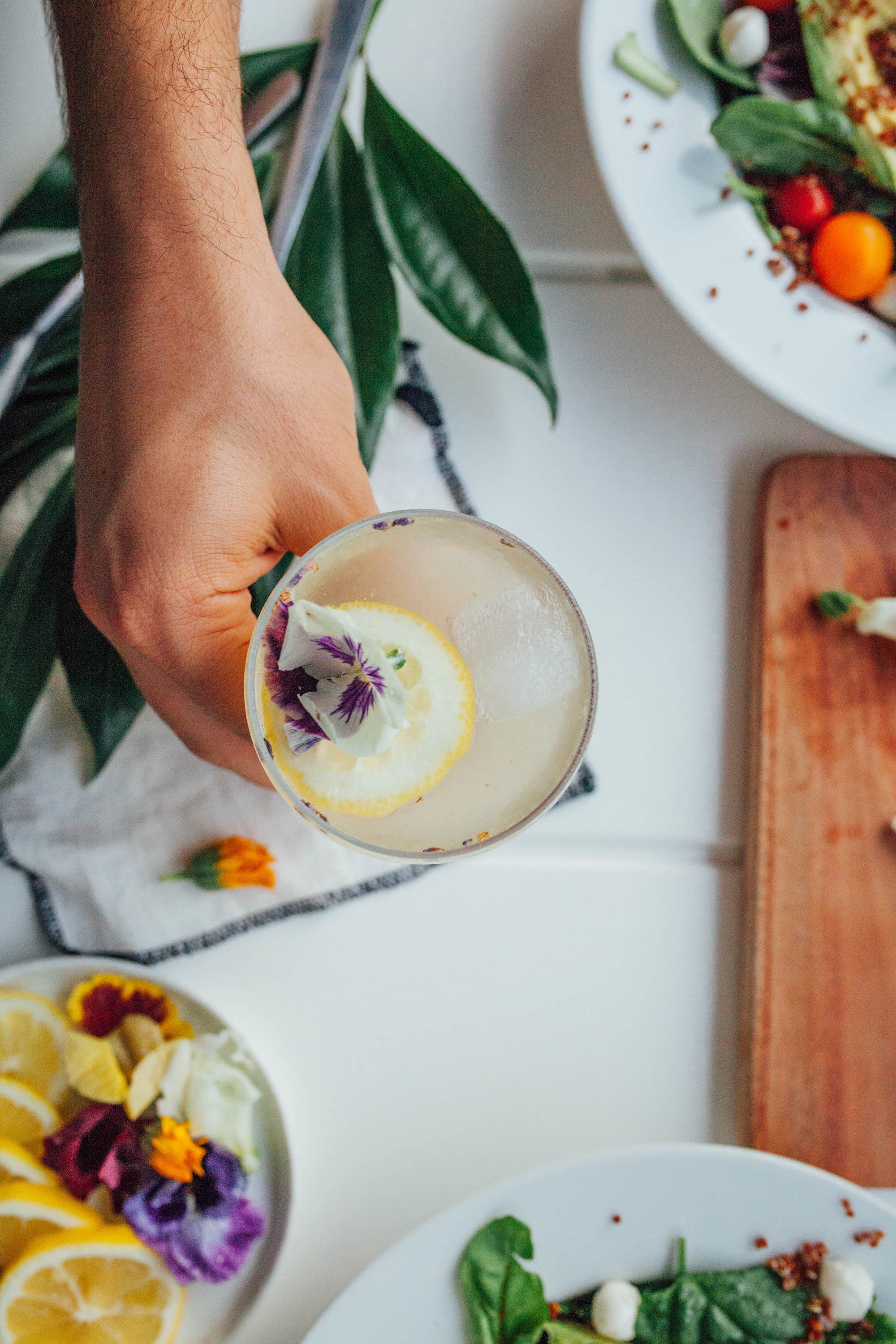 Is lavender everywhere or is that just us? Either way, we're positively loving it. Lavender lattes, anyone? Or how about a lavender cocktail, like this one here that our gal Gabi Valladares of By Gabriella whipped up for an evening on her patio? It sure is perfect for those warm summer nights - and Gabi's going to share how you can make your very own!
Lavender Honey Lemon
"Floral cocktails are a favorite of mine. All. Year. Round. It doesn't matter how warm or chilly it is outside, I can always go for a floral sip. However, I typically drink my floral cocktails with a bit of gin. So, I wanted to switch it up and go with something a little lighter and a bit more bubbly. Enter, the Lavender Honey Lemon complete with some light and delicious prosecco."
Ingredients
1/4 cup honey water (1/4 cup hot water mixed with 2 tablespoons of honey - shake until dissolved and refrigerate)
2 tablespoons freshly squeezed lemon juice
2 tablespoons culinary lavender buds
Prosecco
1 lemon, sliced
Edible flowers
Directions
Add lavender buds to chilled honey water and mix.
Pour honey water and lavender buds into a coupe glass.
Add lemon juice.
Add one small square ice cube.
Top off with prosecco.
Garnish with lemon slice and one edible flower.
Is your mouth watering yet or what? Ours sure are! We've got major heart eyes over here for this floral-inspired cocktail. Here's one quick tip from Gabi if you're going to be whipping up your own Lavender Honey Lemon:
"Some grocery stores stock edible flowers in the refrigerated or produce sections. If you can, snag a carton of those. If not, please be sure to do your research! Not all flowers are edible; in fact, many can make you feel very ill if ingested. If you're searching on the fly and can't get to a store that stocks edible flowers, grab some Carnations, Hibiscus, or Pansies. These are a few good go-tos to keep in mind if you're looking to use edible flowers in your recipes."
"And, if you can't tell - there's even more floral goodness coming your way soon, so stay tuned!"