Entertaining
Green Apple Ginger Martini
March 10, 2017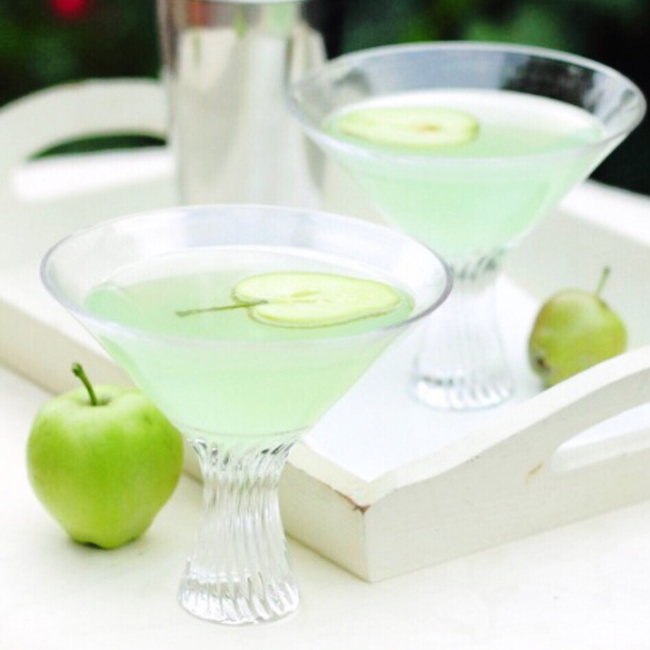 We'd be lying if we didn't say we love this cocktail because of its color. Not only does it perfectly match the Alice's Table green, but it offers a lively take on a classically chic cocktail.
When crafting cocktails we love incorporating seasonal ingredients. While apples are typically thought of as a part of the fall harvest, tart green apples offer a crispness for the sunny spring days, while ginger provides a warming flavor profile for the cooler nights. Shake this cocktail up for a cozy night in or as a dessert pairing at your next dinner party.
We love cocktails that are a bit more of an experience to mix up, as it makes them all the more worthwhile. However, if you're not feeling quite like Betty Crocker, you can easily substitute a premade simple syrup alongside a high-quality store bought apple juice -- it will be our little secret!
Ingredients
1 green apple
4 ounces vodka
2 Tbs. freshly squeezed lemon juice
1 cup water
¾ cup sugar
¼ cup chopped ginger
Directions
To create your apple-ginger simple syrup bring the water, sugar, ginger, and peel of the green apple to a boil in a medium saucepan. Cook over medium-high heat until the sugar has dissolved.
Quickly transfer the simple syrup pan to a cold ice bath, stirring occasionally. Once cooled strain the simple syrup to remove the apple peel and ginger.
Place the peeled green apple into a juicer, and strain if necessary.
Fill your cocktail shaker with ice and pour in the vodka, 2 ounces of the apple-ginger simple syrup, and ⅓ cup of the apple juice. Shake well, and pour into two martini glasses.
Garnish with a fresh apple slice or apple peel garland. Enjoy!