Entertaining
Floral Sunset Dinner for Two
August 18, 2017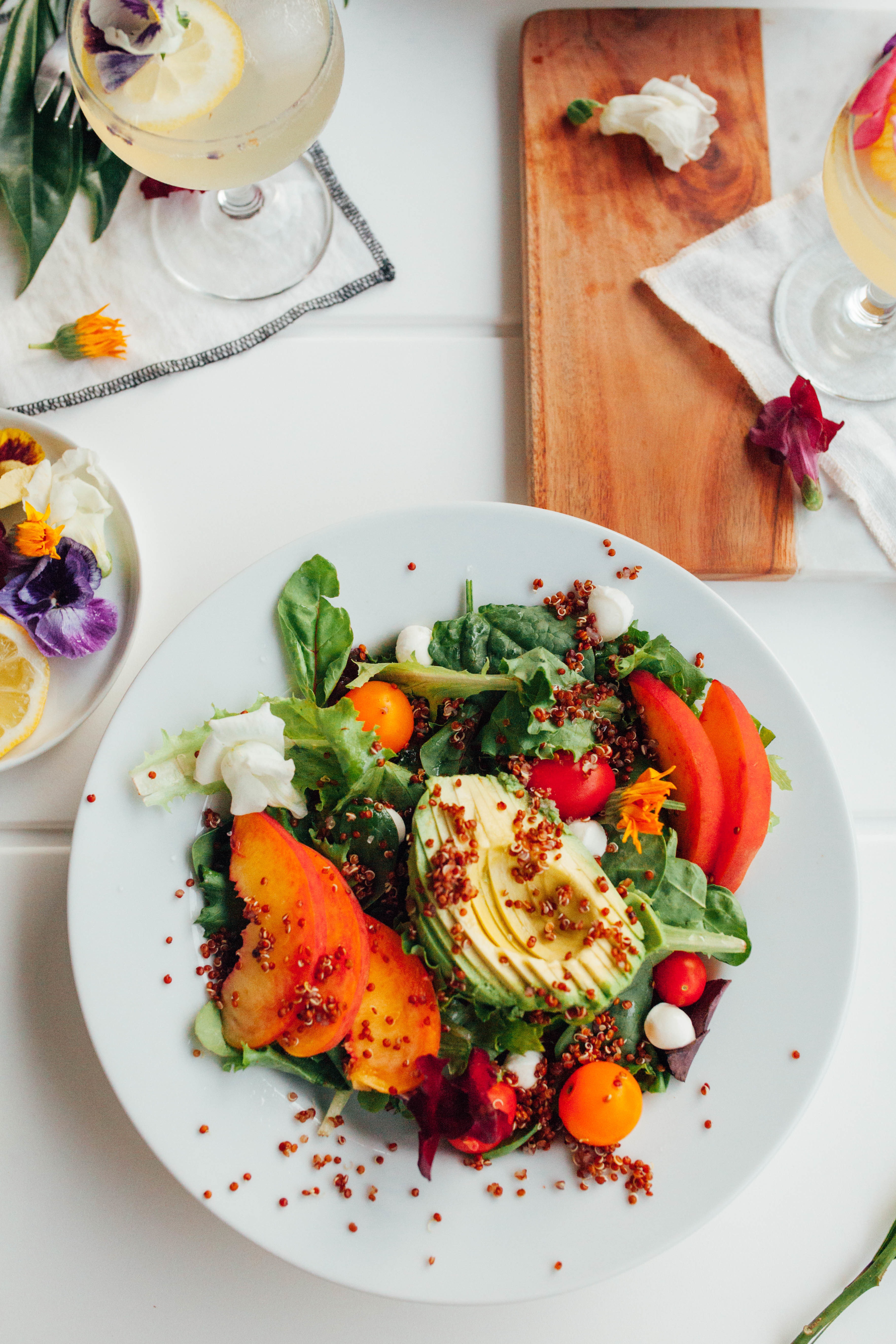 Sunsets + easy dinner + florals = basically everything we love about summer. Lucky for us, our friend Gabi Valladares of the entertaining and travel site, By Gabriella, incorporated all three of those in her recent sunset dinner for two.
"Aside from loving all these summer blooms, I'm also really loving all the summery floral recipes! You may have spotted my recent post, the Lavender Honey Lemon cocktail, which hinted at some more floral fun coming your way. Well - here it is!"
Gabi not only stirred up a floral cocktail, she also created a dreamy floral sunset dinner for two. Can we join next time, Gabi?
Floral Sunset Dinner for Two
"I kept it simple with this dinner - isn't that what summer is all about? Instead of a heavy 3-course meal, I prepared a bubbly floral cocktail and a fresh floral summer salad. It basically just screams summer."
Ingredients
2 cups spring mix
1 peach, sliced
1 cup mixed heirloom tomatoes
1/4 cup mozzarella pearls
1/8 cup red quinoa, rinsed and cooked
1 avocado, sliced
1/4 cup olive oil
1 tablespoon honey
Salt & pepper, to taste
Edible flowers
Directions
Whisk olive oil, honey, salt, and pepper until combined.
Pour homemade dressing over spring mix and toss until combined.
Add peaches, mozzarella, tomatoes, and avocado. Sprinkle in quinoa.
Top with edible flowers and enjoy!
"Sure, the edible flowers may mostly be for decoration, but I think they're the perfect summer decoration. Plus, they add a little something something to the cozy/romantic sunset dinner."
"This recipe is also really great for serving in batches, so if you're entertaining a larger crowd, it's a fun little dinner surprise. I might even say it's an Instagram-worthy dinner. Oh, and also delicious. If you really want to up the ante, add some floral buds to your homemade dressing - YUM!"