Entertaining
Citrus Shrub Punch
December 13, 2017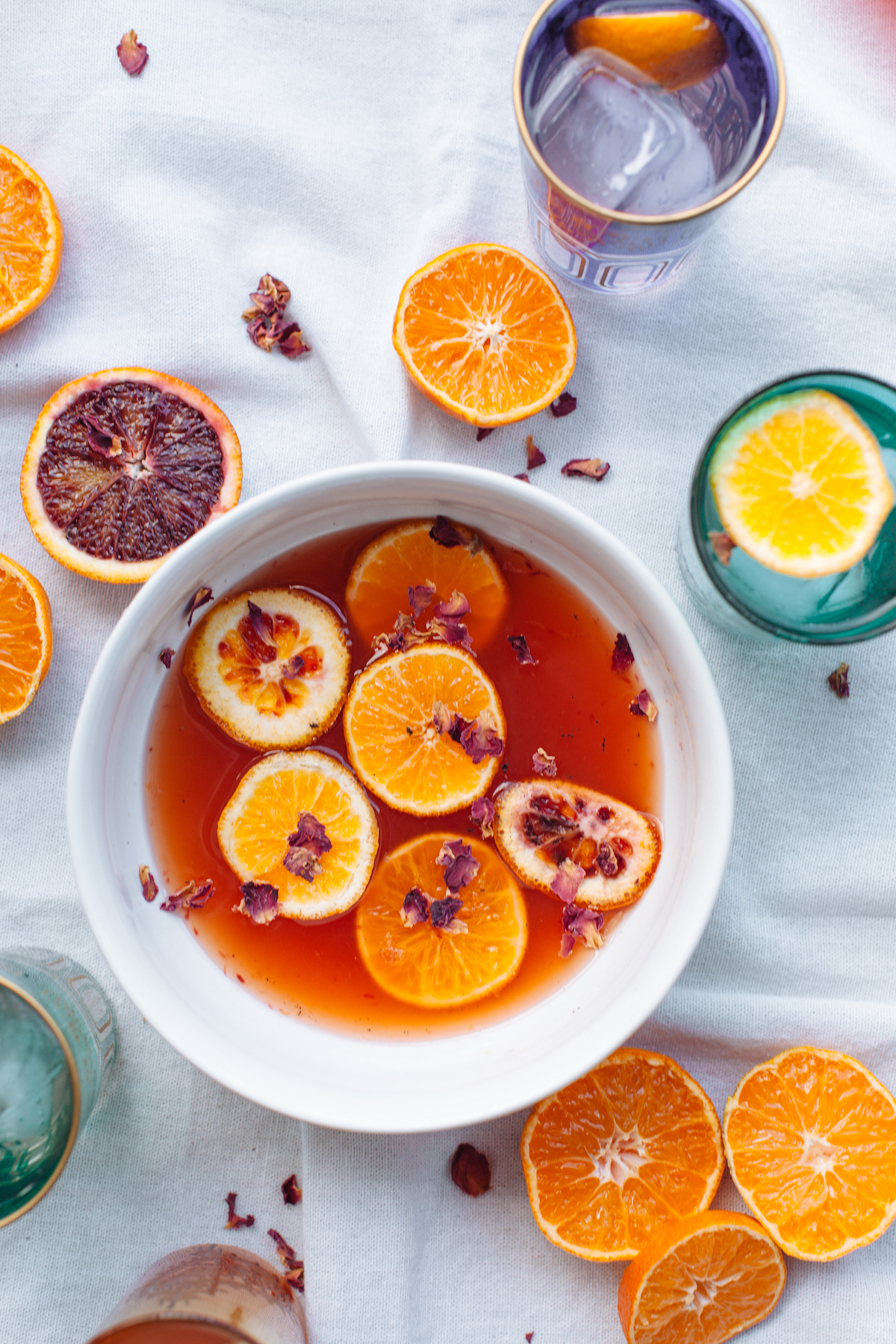 We're switching up our cocktails this holiday season and our friend Gabi Valladares of By Gabriella whipped up a Citrus Shrub Punch that's perfect for those blustery winter days. Don't fret, you don't need to be well-versed in shrubs. This is a fun one if you're new to them! We'll let Gabi take it from here.
"Let's talk holiday entertaining. It is a MARATHON. Am I right? A one day event or little get-together can take weeks to plan. Am I being too dramatic? Perhaps. Regardless, invites are sent out a few weeks in advance, then come the RSVPs. Next, it's planning the flow of the evening - are you serving dinner or passed snacks? Will your guests all hangout in the kitchen around the island?"
In fact, that's my dream of an evening - all of my favorite people wrapped around an oversized island snacking on savory apps (let's be real, I mean cheese) and seasonal drinks.
Back to the point. Now that I've successfully stressed you out, I'm going to help you out with a little tip: Embrace the punch.
Yes, punch. A punch that we'll class up a bit. A fancy punch, if you will. This year, like last year, I'm all about the shrubs. New to shrubs? They're simple drinking vinegars that you can use to elevate your holiday cocktails. Or any cocktail, really. All it takes is the right mix of flavors."
Citrus Shrub Punch
Ingredients
​1 grapefruit
2 satsumas
4 mandarins
1 blood orange
1 cup sugar
1 cup champagne vinegar
Botanical gin
Club soda
Madagascar vanilla bean
Rose petals
Directions
Make your shrub by chopping/slicing your citrus and combining it in a bowl with sugar.
Mash up your fruit a bit and mix it all in with the sugar.
Cover and let sit 1-2 days. After 1-2 days, strain the liquid out and mix with champagne vinegar.
Next, make the punch. Combine gin and shrub in a punch bowl.
Top with citrus rounds.
When ready to enjoy, pour 1 part Citrus Shrub Punch into glass with 1 part club soda.
Garnish with citrus rounds, vanilla bean, and rose petals.
"If you're curious and want to learn more about shrubs, Food52 has an awesome write-up on how to make a shrub without a recipe. Enjoy!"