Entertaining
Bits + Blooms: What We're Thankful For
November 17, 2016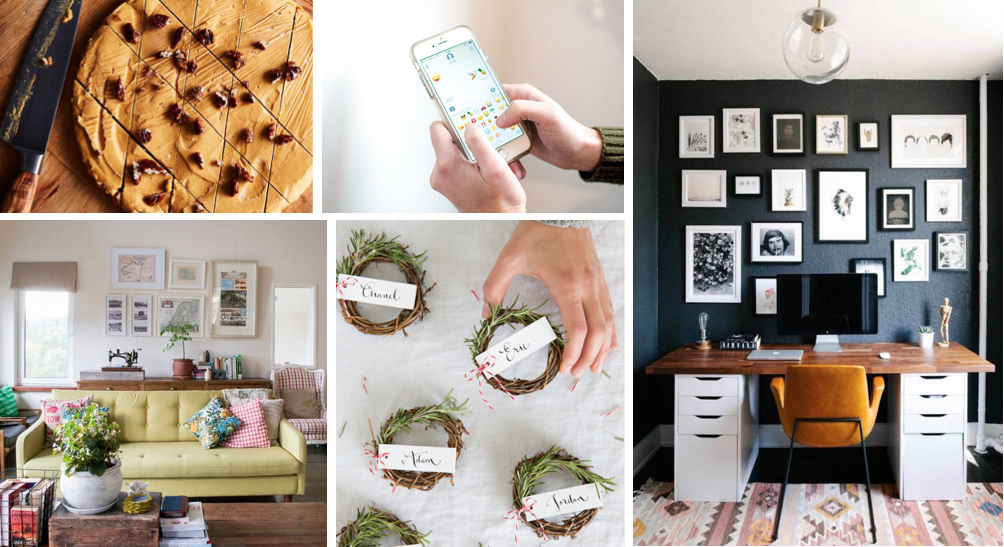 Here at AT headquarters, we're thankful for many things. Our wonderful customers who make our events so lively and fun. Our office dogs Harper, Bella and Lizzie. Flowers, of course. And last but not least, Starbucks. In the startup world, you need a lot of Starbucks.
This week, Alice has rounded up a few other things she's thankful for -- strategies for staying focused during the hustle and bustle of the holidays, a gluten-free dessert that will satisfy your sweet tooth, and the fact that we can finally start decorating for the holidays.
1. This wreath roundup from Camille Styles has the team excited for the holiday season. We especially love the creative, festive place card idea -- a perfect addition to any December dinner table. For those of you who are as excited about wreaths as we are, Alice's Table is hosting some upcoming wreath-making workshops in Massachusetts and San Francisco.
2. Emojis! They can transcend languages and cultures. They illustrate our emotions better than words. And they're officially considered modern art. This awesome post from Artsy's blog explains why the MOMA adding the original set of emojis to their personal collection makes so much sense.
3. Apartment 34's strategies for staying productive are especially useful as the hectic holiday season looms. We all want to make the most of our time in the office so that we can spend the rest of our hours with friends and family.

4. Who has time to dust off every. single. tchotchke. before the holiday guests arrive? Not us. We'd rather be perfecting our Thanksgiving tablescapes. Thankfully, Apartment Therapy put together this "good enough" guide to cleaning your home. Spend more time on your pumpkin vases and less time organizing your clutter. (Save the junk drawer clean out for your New Year's Resolution.)

5. This recipe for no bake, gluten-free pumpkin pie bars is perfect for the lead up to Thanksgiving when you're craving something indulgent, but don't want to use up your full splurge before the big day. We might be making these all winter long -- a perfect pairing for those much needed afternoon coffee breaks.