Entertaining
A Party on Wheels: Designing A Pinterest-Perfect Bar Cart
August 8, 2018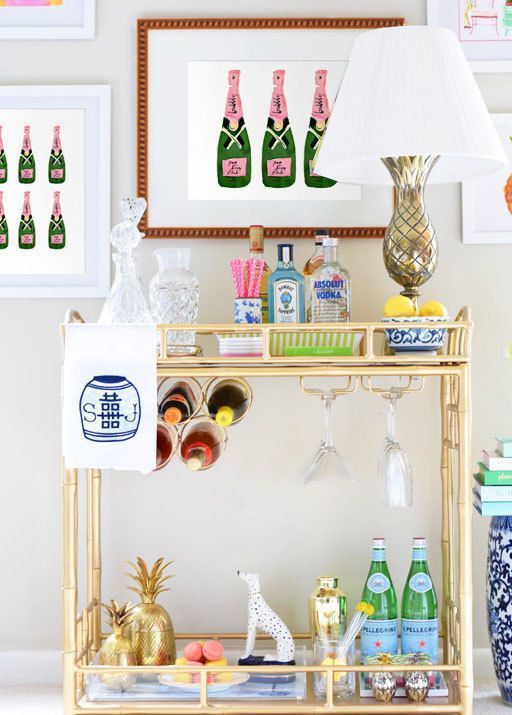 Bar carts are back - and come in at a close second to weddings and puppies on the pinteresting popularity scale. Forget the place your grandparents housed their dusty collection of gin and whiskey, the bar cart is on the top of our list when it comes to sprucing up a space. And crafting a stylish bar cart in this day and age requires a little more attention than simply haphazardly loading it up with bottles and glassware.

Bar carts provide the perfect opportunity to put your own style on display and evoke the feeling of an instant celebration - it's quite literally, a party on wheels! So before life gets in the way, we've compiled a list of bar cart essentials to help you design the picture- perfect bar cart of your entertaining dreams.
1. Gorgeous Glassware
Everyone's familiar with basic martini and highball glasses, but we're all about swapping out the expected for some new and creative choices. Trade your whiskey glasses for these gilded rim glasses or your typical wine glasses for these rose colored glasses. Gold rims and subtle pink tints adds a pop of color and unexpected twist to the everyday glasses. Head to your local vintage store or flea market and you'll find an endless supply of glassware for any style. And don't forget to include a few flutes, you never know when the bubbly is going to make an appearance!
Pro Tip: You only need to purchase two of each of the fancy glasses, because realistically when you serve, you'll use normal glasses.
2. The Tools
The surefire way to craft the perfect cocktail is to use the correct tools. If you're new to the world of cocktails, the shaker will quickly become your best friend. From there the list goes on: from bar spoons and stirrers, to jiggers and muddlers. Yet, what many may not consider a true bar cart tool, we consider to be the most important: a cocktail recipe book. Having a recipe book on hand can help ensure that you and your guests never tire of the same-old same-old. Stack a few vintage cocktail books on the lower level and pop a pretty bottle on top. A wealth of cocktail knowledge will be right at your fingertips, and you'll be we'll on your way to that next-level cart you've been eyeing.
3. Basic - or not so basic - Boozes
It's time to get down to business. Start with the basics - vodka, tequila, gin, a good bottle of red wine, but don't feel pressured to stock every last fancy-schmancy liqueur or bitter. Make the most of your space and choose your favorites plus, one liquor you can use often, like St. Germain. Buying less means you can splurge on the higher-quality options.
If you do have a surplus of wine or liquor, choose the best-looking bottles and store the rest in the pantry - this isn't about turning your bar cart into the local liquor store. That being said, it's always fun to have a conversation-sparking new booze to try out. Our recommendation? Ketel One's new Botanical Line. With flavors such as Peach and Orange Blossom and Grapefruit and Rose, you'll feel as if you've landed in an Alice's Table class!
4. The Accoutrements
We're the first to admit we're creatures of habit, give us a glass of chardonnay or a fresh-squeezed margarita and we're happy, but let's not forget the the cocktail accoutrements. From flashy straws to edible glitter (oh yes), stock your cart with a few of those fun extras that upgrade any classic refreshment. And if you're a regular ol' cocktail connoisseur, try your hand at some DIY swizzle sticks or herb-infused ice cubes.
5. The Festive Extras
Now that you have the not so basic, basics stocked, it's time to add the eye catching extras. Toss a few boxes of champagne gummy bears (yes, dreams really do come true) or a tequila-infused chocolate bar on the top shelf. Shop around for some fun coasters or vintage cocktail napkins to add to the mix, that you can switch out per season. Find a vase you love (a cocktail glass works too) and load up the cart with fresh blooms, or switch things up by growing an herb you'll muddle often - like mint!
And what's a beautiful bar cart without a celebratory clink clink. Find some of our favorite recipes, like the Hibiscus Aperol Margarita and Sweet Honey Rose, on our blog!