Weddings
5 Wedding Flower Flops to Avoid!
January 22, 2018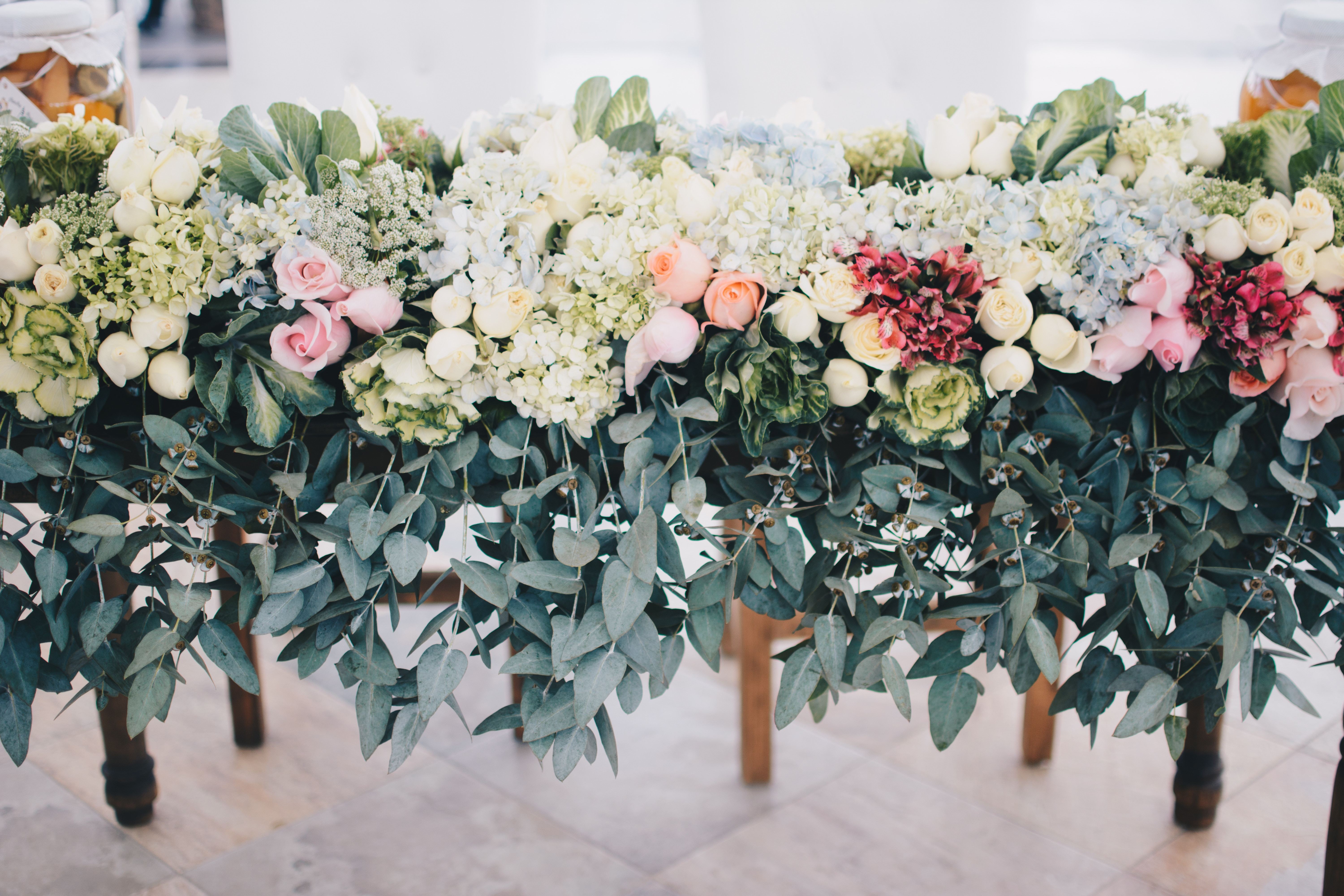 You've scoured Pinterest for months and finally feel ready to take on designing your ceremony flowers. After assisting many brides in their floral design process, we know how important the perfect flowers are for creating the ideal atmosphere for your special day. Today we're sharing our top floral faux pas to avoid, to ensure your wedding flowers will be a blooming success.
1. Not reusing ceremony flowers
Whether you opt to to do DIY or hire a florist for your special day, wedding flowers are an investment. Often brides make separate orders for their ceremony and reception which can easily double your flower cost. Don't let your beautiful blooms go to waste, let them do double duty!
We love the idea of using end of row arrangements as the table centerpieces and altar arrangements as sweetheart table decor. Planning on having a mimosa brunch the next morning? Bring the blooms! This will also allow you to easily stick to your color palette throughout your special weekend.
We suggest working with your wedding planner or caterer to make sure your arrangements are quickly transported after your ceremony to your reception location. With all of the photo taking and mingling following the ceremony, your guests won't even notice the quick swap!
2. Designing an oversized bouquet
It's easy to become over excited about all of the flowers you want to incorporate into your personal bouquet. While we fully endorse creative freedom, remember to not go too grandiose to avoid hiding your dress. Send your florist a picture of your dress on, so they can understand how to best design the bouquet to showcase your gown's features.
3. Choosing to do all DIY
We've all been there. Pinterest provides endless opportunity to be budget-friendly and allow your inner artist to shine. However, it's important to remember that taking on DIY projects can be time consuming and can often lead to a Pinterest fail.
When taking on floral DIY's, choose a couple of your more simplistic favorites that you can perfect before your special day--even the best florists have to practice. Flimsy flowers can lead to short lived arrangements; choose heartier varieties that you feel confident using. We also suggest buying vases if you plan to make all of you arrangements, to eliminate any additional day-off stress.
And if you simply can't let that DIY bug go, let Alice's Table host an assisted DIY wedding flower workshop for a little creative R & R before the big day!
4. Choosing strongly scented flowers
Some of the most beautiful flowers brides tend to initially choose are beautiful, but carry strong scents. We suggest sticking to more subtle varieties on your wedding day to ensure no issues with allergens.
If there is a stronger scented variety you've dreamed of including, try incorporating it into ceremony decor where the blooms won't be placed as close to a guest's nose. Some of the strongest scented flowers include Lily of the Valley, Gardenias, and Lilacs, while more neutral flowers include Peonies, Roses, Hydrangeas, and Dahlias.
5. Lack of communication
If there is one thing we have learned from working in the floral and wedding industry it's that there is no such thing as communicating too soon. While you won't be at the front of your florist mind, we suggest making contact six months out to determine a timeline.

As your wedding nears, communication should increase naturally. To ensure a successful relationship, come to all meetings with specific inspiration, an understanding that you are not the only bride, and lots of questions (don't hold back)!