#CareerGoals
9 Work-From-Home Moms Share The Advice They Wish Someone Had Given Them
July 24, 2017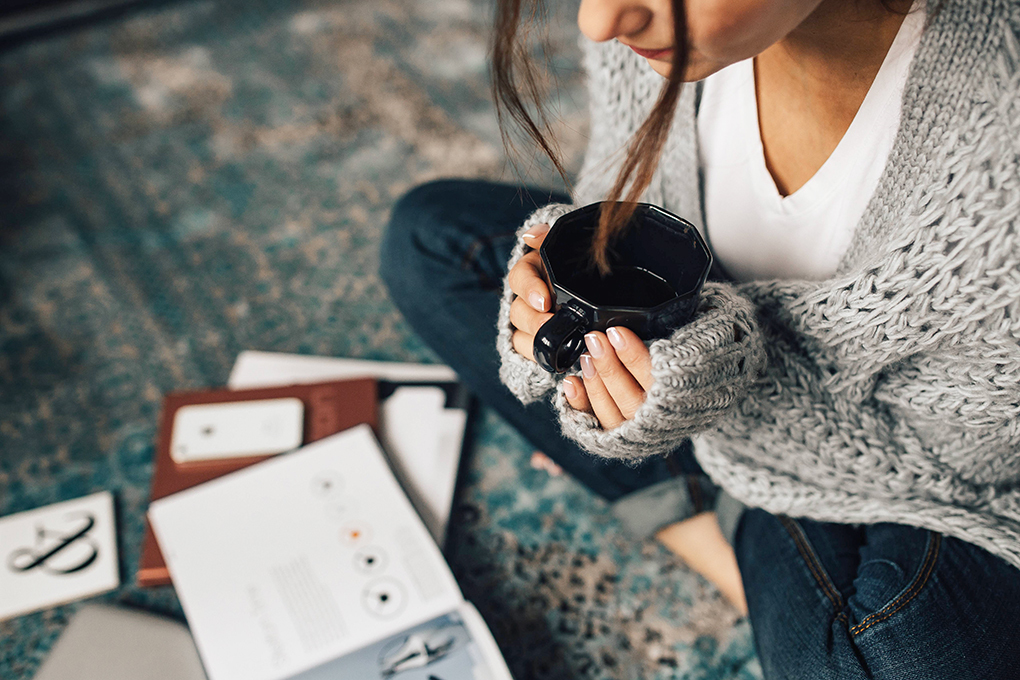 Hindsight is 20/20. Or so they say. But there is definitely something to looking in your rearview mirror at the years behind you and musing about the advice you wish someone would have given you at various points in your life. This is especially true when it comes to motherhood. Doubly true when it comes to throwing work into the mix. And maybe triply true when it comes to working from home—as a mom.

Below, nine inspiring moms lay it all out there.
"Don't be afraid to ask for help. We don't want to give women the false impression that we can 'do it all' (and 'do it all' well). We simply can't. We rely on husbands, grandparents, babysitters, and school to help juggle our children so that we can make time to give adequate attention to our company." —Candice Romo, co-founder of Hawk + Sloane apothecary sprays
"I wish someone had empowered me to take the occasional vacation day. I tend to throw myself full-throttle into work, putting my head down and moving from one professional task to the next, right up until the minute I am almost late to pick up my son from school or camp. I put a lot of pressure on myself. And once in awhile it becomes overwhelming. Early on, I would find myself having totally unproductive days—I would flounder to focus on something, only to accomplish nothing of importance, and I'd feel guilty. Then I'd feel angry at myself for not even enjoying the day! Now, if I sense work is becoming paralyzing, I arrange my schedule so that I can take an actual day (or even a half-day) OFF. If I want to read a novel or go for a massage, I can do so without all that guilt—and I am replenished and better equipped to handle my job like a pro the next day." —Dawn M. Roode, founder of Modern Heirloom Books
"Although the freedom that working from home affords is great, sometimes the lack of business comradery and the loneliness of making every single decision on your own can feel daunting. I wish someone had told me of the benefits of engaging with others and getting involved in entrepreneurial organizations. It is amazing how great connecting with other creatives outside of your particular channel can be. For me, talking about my business helps reinvigorate my drive, and getting a fresh perspective can inspire new opportunities I may not have even considered." —Nanci Bergman, founder of Accent jewelry
"One piece of advice I wish someone had given me is that every day can be unpredictable, so plan ahead for detours in your schedule. Some days we're super productive, and other days it's really hard to get things done. I try to plan in advance for project deadlines knowing that a shoot day may end up be the day that my daughter decides not to nap. Some buffers in your deadlines can make these mishaps much less stressful." —Kate van Geldern, blogger behind Domestikated Life
"If you can swing it, get your workout done in the morning, because even if you are home, taking a break midday to work out can easily be trumped by phone calls, meetings, and deadlines, and you'll run out of time. Getting it done in the morning means that you won't think about it all day and feel guilty if it doesn't happen like you'd planned." —Christine Brown, founder of Bella Luna Sleep Consulting
"When you work from home, everyone assumes that you are available at all times of the day for both personal and work-related things. But setting clear boundaries about when you are 'working' vs. when you are 'off' is really important. Otherwise you will never truly feel like you are getting work done or having time off!" —Charlotte Russell, Alice's Table Exec
"Do whatever it takes to separate home from work. For the first three years of my current work-from-home job, I had one phone for both work and personal use. I could see work texts, calls, and emails 24/7. I finally got smart and purchased an inexpensive phone for work that I turn off on evenings and weekends. One that note, as much as possible put your work materials out of sight when you're off duty. My 'home office' is my dining room table, so I purchased a rolling cart for my computer and files, so it's an easy transition when it's time to set the table for dinner." —Robin Leon, Au Pair in America
"How hard it would be to deal with 'here and there'. When I was working, I was thinking about spending time with my daughter and when I was with her, I would be thinking about my work to-do list. It required a real mindset shift to be present in my current task." —Christine Stevens, founder of Sleepy Tots
"I wish that someone had told me that you don't need to feel guilty working unconventional hours. Coming from the corporate world, I was so set on the 8-5 schedule with an hour lunch break from 12-1, so I began my working-from-home career with the same mindset. It took me quite some time to actually take advantage of the fact that I get to create my own schedule! If it's easier for me to work out from 10-11am and use that as my hour break for the day, then that's what I should do. As long as I'm getting a full day of work completed, then it doesn't matter what time I take my break. That's the beauty of working from home and everyone should fully take advantage of it." —Gretchen TeBockhorst, President & Founder of PRIM Communications public-relations firm
If you're looking for a fun, flexible job, consider becoming an Alice's Table Exec and hosting flower-arranging classes on your own time in your own town!