Flowers
Where Do Your Flowers Really Come From?
June 8, 2016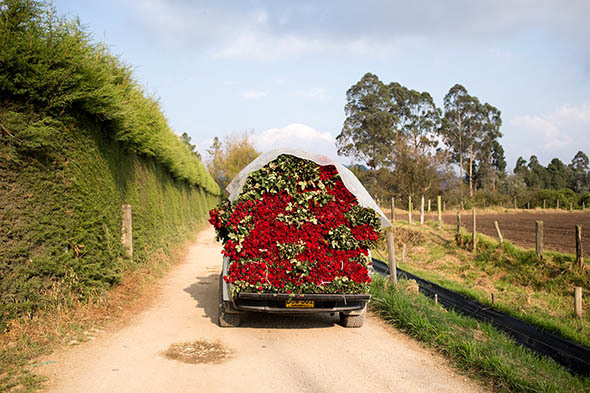 Have you ever wondered where those beautiful flowers you picked up at the neighborhood florist or the corner grocery store really came from? If you're like most of us, your number one priority is finding the prettiest bouquet without much thought as how those flowers made it to that exact spot. Chances are, the flowers you have in your hand have accumulated more air miles than most of us will travel in our entire life!
It's no surprise that the international trade of cut flowers is a blooming industry, because let's face it, everyone loves flowers! This $100 billion a year industry is growing at an annual average of 6 percent. In the U.S. alone, there are more than $13 billion worth of cut flowers sold annually, and even more surprising, 82% of these flowers are imported.
So where are these flowers actually growing?
In the past decade, the flower industry has transitioned from a traditional model based on local production to a global model, similar to the produce industry. This model allows consumers to enjoy flowers year-round since more and more flowers are grown in southern countries with warmer climates and significant lower labor costs.
Chances are your fresh cut flowers are from Columbia, Ecuador, Mexico, or Holland. The U.S. now imports 78% of their imported cut flowers from Columbia, one of the world's largest flower producers, exporting $1 billion per year and growing.
Know the roots
Curious about where specific flowers are coming from? Here's the specifics!
Columbia - Roses, carnations, spray chyrsanthemums and Lilies
Holland - Tulips, lilies, gerber daisies, freesia, snapdragons, and orchids
Ecuador - Roses, Delphinium, asters, and baby's breath
What does this mean?
It may seem startling to learn your flowers aren't actually grown down the street, however, these southern flower-producing countries are ideal for flower growth. With optimal humidity, temperature and soil fertility, flowers are actually thriving in these countries, plus the U.S. saves a huge amount of energy by not having to light and heat greenhouses during the cold, dark winter months in the north. As far as pesticides, many farms in Columbia are adopting alternatives such as adding mint bushes or smoldering tobacco to keep away pests. The flower industry has also encouraged hundreds of farms to become Fair Trade certified, which has resulted in millions of fairly produced flowers being sold worldwide.
Not everyone is a fan of having their flowers travel hundreds of miles before they land in a vase on their coffee table. Of course there are alternatives to purchasing flowers that aren't imported to the U.S., but you have to know the right questions to ask.
What should you ask?
If you're looking to buy locally sourced flowers, there's still hope! We always love a beautiful home-grown bouquet fresh picked from the garden, however, we know that's not always the option. Here are a few recommendations for buying fresh, local cut flowers:
1. Approach your local florist and ask if they source any from any local, greenhouse-grown flowers.
2. Head to LocalHarvest for information on how to order US-grown organic flowers on the internet.
3. Buy Fairtrade certified flowers, with the Fairtrade logo.
Next time you walk by the flowers are you grocery store, you might see them a little differently!