Flowers
Lemon Poppyseed Cake with Edible Flowers
August 25, 2016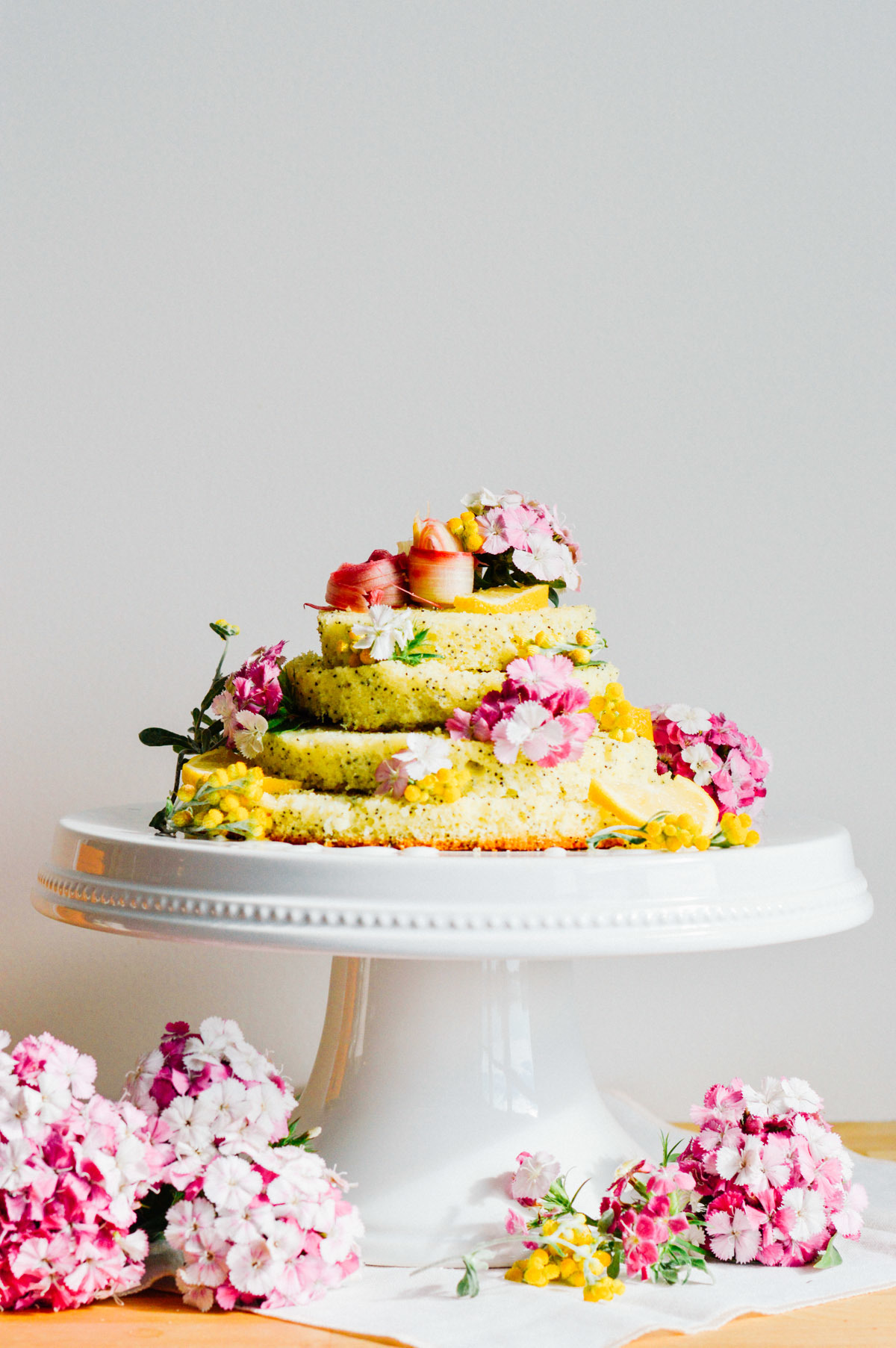 I didn't discover my love for lemon poppyseed cake until two years ago. I remember it fondly - my first mini lemon poppyseed muffin. It was SO good! I think I ate three more. Luckily...like I said...they were mini.
And here I am two years later bringing you what is essentially a naked lemon poppyseed cake. This cake is seriously a dream. It took minimal effort (though it might not look that way); in fact, the hardest part was waiting for the cake to cool. Oh, and also figuring out that lemon poppyseed cake mix isn't really a thing. It's more like you buy lemon cake mix and then add the poppyseeds. I only felt slightly foolish - but, I simply ventured down another aisle and grabbed some poppyseeds in the bulk foods section. AKA, the most cost-effective way to buy poppyseeds if you ask me.

Once you've got your cake ingredients - cake mix, oil, eggs, and poppyseeds - you'll want to stop by a florist or local farm. If you're local to Boston, Allandale Farm is a fun spot to visit for flowers! Do your research and go ready to google feverishly. Not all flowers are edible! I repeat...not all flowers are edible. Some can actually be quite harmful. This time, I wanted to look for yellow and pink(ish) flowers. So, I went in without any specific types in mind - just color - and googled my heart away while standing in the greenhouse only looking slightly suspicious.
If you can, go on an early weekend morning. It can take a long time to find what you're looking for and you don't want to feel rushed. For this floral lemon poppyseed cake, we used flambe yellow strawflowers and sweet william annuals. To actually make the cake, I baked two rounds (so, two boxes of cake mix) per the instructions on the box and cut them in half once they cooled. I cut off the edges and stacked them together. That's it! Seriously! This floral lemon poppyseed cake is different in that it doesn't need to be covered in frosting. Instead, having it plain is totally enjoyable - at least for me. However, I did add a drizzle of homemade icing (about 1 part milk to 3 parts powdered sugar). The last step is to add your flowers and some rhubarb ribbons as you see fit. To make your own rhubarb ribbons, simply use a peeler to create long peels of rhubarb. Then, roll up the individual peeled sections and stack them together on top of your cake along with your flowers as a natural cake topper!
And there you have it - a beautiful masterpiece without the stress of frosting, using fondant, or any expert baking tools. Ready to make your own floral cake? Are you a fan of lemon poppyseed or do you have something else in mind? Either way - go for it!
Written by: Gabi Valladares of By Gabriella