DIY
Holiday Gift Wrapping with Fresh Greenery
December 20, 2016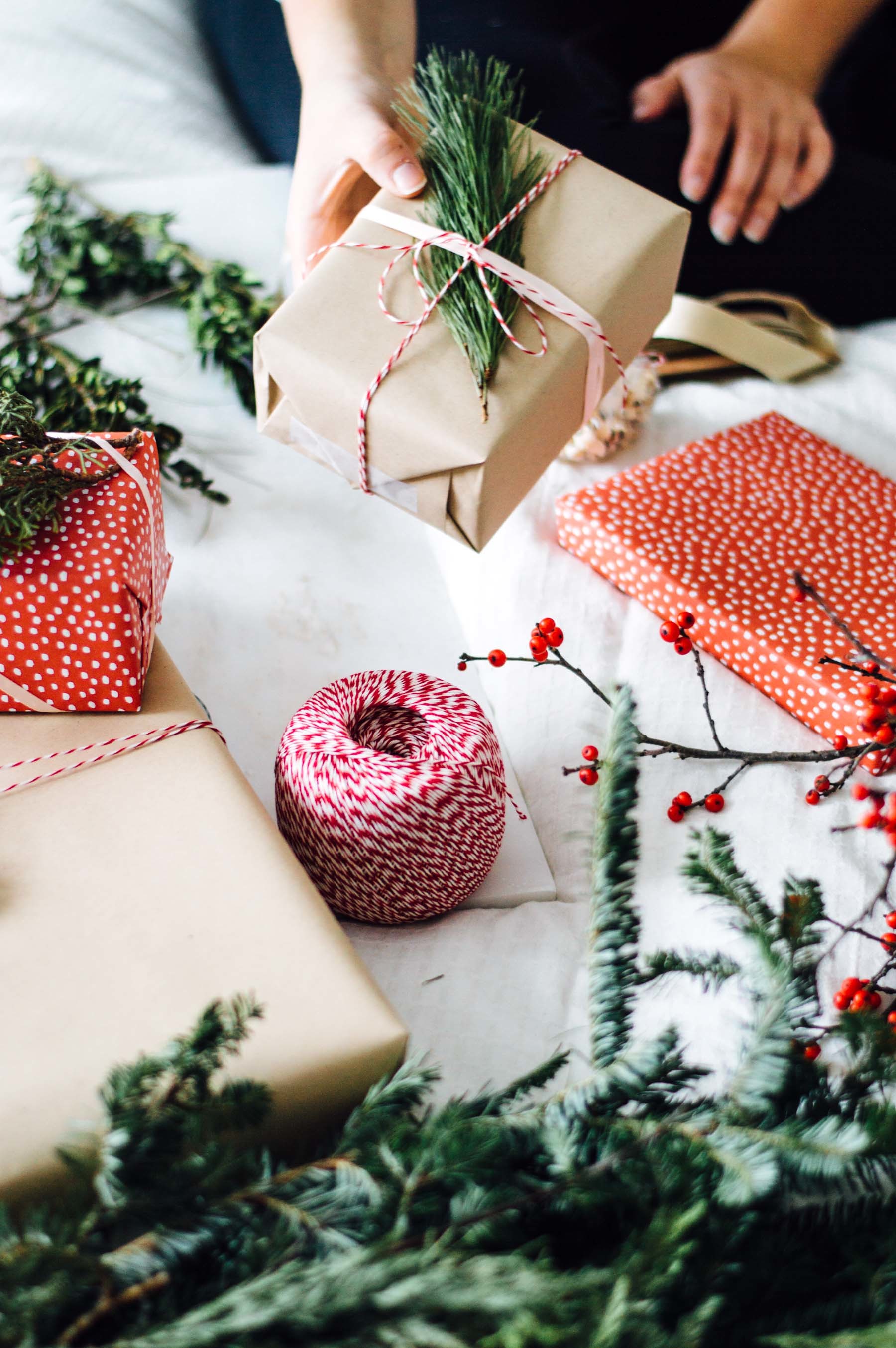 Whether you're a last-minute shopper this holiday season or not, gift wrapping can be a tedious task. If you're buying for a big family (or families) and a few friends/colleagues, you know that gift wrapping session can take hours. It all starts out fun, but after at least one paper cut, some ripped wrapping paper, and that darn tape that keeps getting stuck to itself, it becomes a little stressful.

Holiday Gift Wrapping Tips & Tricks
So this year, let's have fun with it! Even if you're not a fan of gift wrapping, here are a few ways to make that gift wrapping session a blast - or at least a little more enjoyable.
Set the mood
Never heard of a gift wrapping mood? We're going to make it a thing this year. Try to use an hour or two on a cozy weekend or day off for your holiday gift wrapping session. If you're a fan of holiday music, throw on some jolly tunes! I'm a fan of listening to Bing Crosby's holiday album, Merry Christmas, while wrapping. Light some wintery candles while you're wrapping (my favorite is a balsam and cedar candle I was gifted a few weeks ago), just be sure to keep those holiday flames away from your wrapping paper! And finally, treat yourself to a snack while wrapping! I'm a fan of iced chai, so I grabbed one of those from my favorite cafe before diving in with wrapping.
Use fresh greenery
I'm the first to admit that I'm not the best gift wrapper. I try year after year, but I'm a perfectionist, and when I don't get the side crease right or they're uneven, I notice. Big time. So, I've come to accept my gift wrapping flaws and like to spruce up my gifts in a different way. Rather than having perfect gift wrapping skills, I custom-decorate each gift! This year, I loved using fresh winter greenery on my gifts. In fact, swing by your local grocery store and you're sure to find everything you need. For under $20 at my local Trader Joe's, I found a bunch (a literal bunch) of winter greens with noble fir, berried juniper, pine, and more. I also grabbed a handful of winterberry for that fun pop of red.
Decorate each gift a little differently - use greenery on some, let the winterberry stand out on others, or use a mix of the two on those special gifts you've picked out.
An unexpected surprise
I like to mix and match my gift wrapping decorations; I'll grab one or two over-the-top bows, or in this year's case, a silver pom. I'll add in greenery on most gifts, then let others stand alone with striped ribbon. I also enjoy including a fun unexpected surprise on some gifts. This year, I found chocolate drizzled kettle corn and I knew that had to be it. So, a few of my gifts this year come with a surprise handful of holiday kettle corn! Talk about having your cake and eating it, too.
Now that you've got your gifts wrapped, how are you decorating and entertaining for the holidays? I'm taking notes from this holiday flower and cocktail pairing feature - poinsettias and a pomegranate martini? Yes, please!
Written by: Gabi Valladares of By Gabriella