Flowers
DIY: Fresh Flower Napkin Rings
November 14, 2016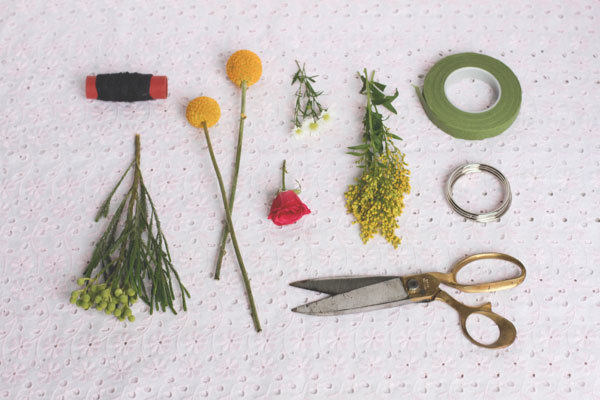 No matter where you are, sitting down at the Thanksgiving table to celebrate giving thanks with family and friends and sharing a meal, is special all on its own. However, if you are able to decorate for the fall holiday we love the idea of adding a personalized touch to each guests place setting. These fresh flower napkin rings are a great idea to bring life to your table, and make each guest feel even more at home.
Project courtesy of Project Wedding.
Ingredients
Steel rings
Scissors
Floral tape
Fresh flowers (we used spray roses, solidago, billy balls, aster, and greenery)
String or twine
Craft glue
Directions
Prep your flowers by removing any excess leaves from the stem. Cut the stems down to 1 to 2 inches. Gently remove any wilting petals from the spray roses as well.
Beginning with the greenery, attach a spring to the steel ring using floral tape. Start at the end of the stem and wrap it around the steel ring to about 1/2 inch up the stem. Stretch the tape as you are wrapping it around the ring to activate the adhesive quality of the tape. Tip: look for natural curves in the stems of the flowers and greenery and follow those curves when attaching the steel ring. This will help keep your design in line with the circular shape of the ring.
Continue this process with the other flowers on hand, again attaching each stem to the ring with floral tape.
Finish the napkin ring by adding additional greenery around the remainder of the ring (including the bottom half) using floral tape. Cover any areas that have exposed tape with small bits of greenery and a dab of glue.
Attach small name plates to each napkin ring with string. Name plates can be made very easily with a home printer and 1/2″ circle punch.