Flowers
How to Decorate With Flowering Branches
April 20, 2018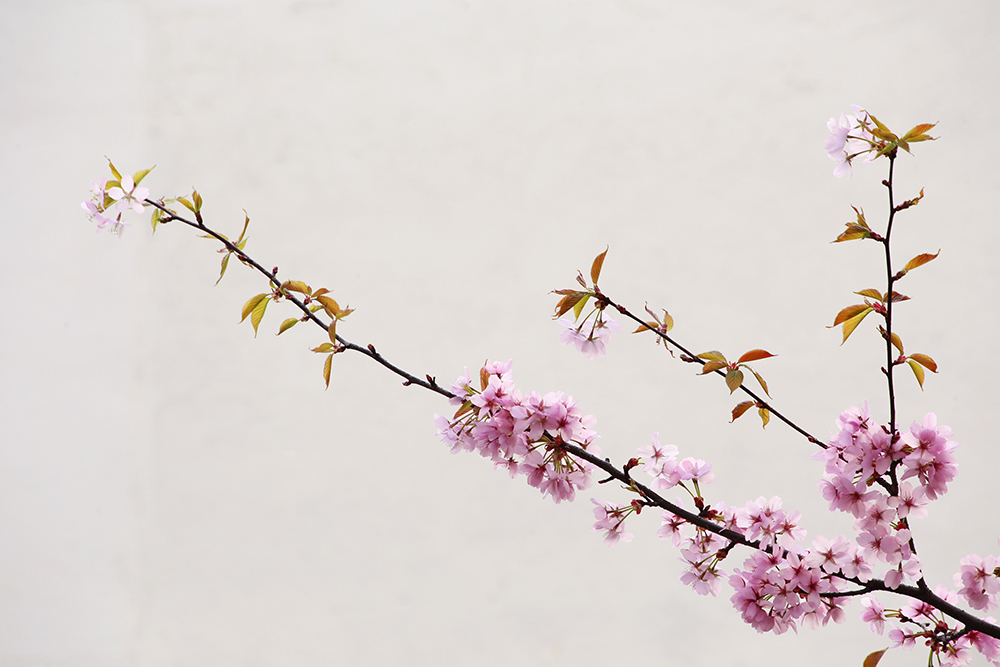 Branches are like the busy gal's flower-arranging cheat (and who, we ask, doesn't love a good cheat?). While branches are a cinch to source year round, looking out your window will confirm that spring is the season for flowering branches, when trees from coast to coast are aflutter with dreamy, delicate blossoms. Get them now when the getting's good.
Why We <3 Them
With their height and presence, flowering branches are statement-makers—a little bit modern and a little bit girly. #Lifegoals. Plus they're long-lasting and require zero floral skills: Get a bundle, stick it in a vase, and bing bang boom—you're all set. Insta-arrangements.
Where to Find Them
The cheap and easy play is simply to target trees in your yard (or those around your 'hood—what we like to call "urban foraging"). Just approach the task as if you were pruning, going after those wonky straggler branches that you'd eventually chop anyway, and cutting right at the joint. Before you start working, it's best to have a specific vase in mind (more on vases later) so you know about how long branches need to be. And powerful shears are a must—trust us, you don't want to struggle through a kitchen-scissor hack job.
If there are no friendly neighborhood trees in need of a little trim, pop buy your local florist or flower market to check out the goods. Or, take your chances with a grocery-store run; sometimes even big-box brands can surprise you with a decent branch selection.
Prep 101
Split thin branch ends lengthwise, or smash thick branch ends with a hammer (yep, you read that right). This goes for both foraged and store-bought branches, and primes them for maximum water consumption. Then place them a vase filled with water so they're submerged at least three inches. Change the water regularly and mist every few days.
All About That Vase
You need a sturdy vase so that the heft and height of the branches doesn't send it tumbling—so opt for something heavy or with a wide base (think pear-shape). And branches are besties with glass vases which show off their clean lines in a way that looks so sleek and architectural you almost feel guilty that "arranging" them took like no time at all.
How to Decorate With Them
Tall, upright branches like dogwood, quince, and curly willow look killer on the credenza in your entryway, smack dab in the middle of your dining table, and even directly on the floor—in that lonely spot in the corner you've been wondering what to do with. While branches like silver dollar eucalyptus and wisteria, which slay at the romantic swoon, are ideal for your mantle, bedside table, and coffee table.
Want to step up your floral game? Come to one of our flower-arranging classes!!