Flowers
Breaking Down The Bouquet: Thanksgiving Edition
November 14, 2018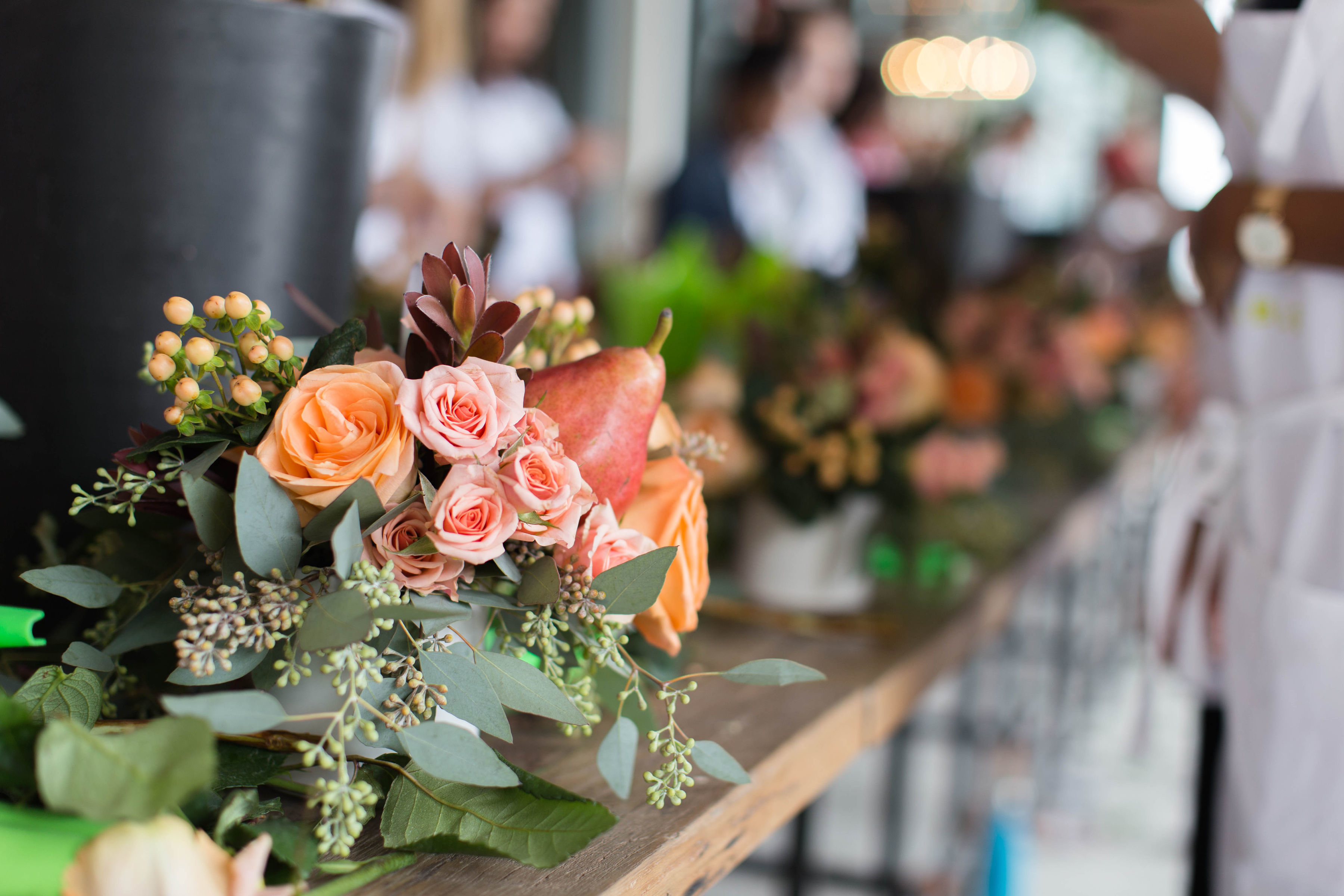 Let's be honest, after countless hours of cooking and cleaning, you'd rather cozy up with your second glass of wine, than dig out the kid's craft bin to design that Instagram-worthy tablescape. From candles to cornucopias, (and oh, did we mention perfectly draped accent berries?), turkey day expectations are next level. But we're here to say that with a little bit of real-life inspiration, you can make your meal the talk of Thanksgiving for years to come. Whether you're hosting three or thirty, our Green Mountain Orchard flower recipe will wow your guests, even if your turkey turns out dry!
Not looking to dig out the craft bin? Head to an upcoming event in your city to design your own, or try your hand at home with some inspiration below!
On Choosing Flowers
As one of our longest lasting arrangements, this recipe doubles up as the perfect gift to send your guests home with or enjoy long after the celebration. The flowers are bright by nature, but can easily be adapted to match any table's palette; simply swap out the oranges for delicate pinks or creamy whites. By sticking to the classics like roses, any floral-novice can master the arrangement in minutes and find them at their local store.
On an Element of Surprise
Thanksgiving is a time of harvest, so what better opportunity to incorporate some elements of the natural landscape into your arrangement. There's no doubting that fruit elements look beautiful on your table so , why not bring them into your florals?

Pears add a rich and earthy element to arrangements; their light green hue can easily join forces with other elements on your table to let this colorful arrangement harmonize with your overall color palette. Their shape adds a textural element not easily achieved with a true flower, and give the arrangement height, without expanding into dinner table conversation territory. Pro tip - opt for a less ripe pear, to keep all elements of your arrangements last long together.
On Presentation
We like to keep things deceivingly simple, so you can spend more time focusing on what everyone's looking at, the turkey day spread. Our go to? A classic white vase. It will match any decor (especially important if you're headed to someone else's house!). Plus, while the extravagant draping centerpieces you see on Pinterest are beautiful, you want people to be able to talk to each other across the table and not peering through the foliage. A picture-perfect presentation gives the evening a little extra flavor and always lets your inner Martha shine!
Ingredients
1/4 bunch of Seeded Eucalyptus
5 Roses
3 Spray Roses
2 Safari Sunset
2 Hypericum Berry
2 Pears
Directions
Make a grid with tape on top of your vase (just like a tic-tac-toe board). This helps you avoid the flower flops by building structure. This will also help to control and hold your arrangement in place so you get the best-looking arrangement possible.
Fill your vase with room temperature to warm water–about baby bath temperature. This will help open the flowers and let them last for at least a week. Always add plant food to the water! It's a preservative and a sugar which really makes the flowers last longer.
Create your base with greenery, for this arrangement we're using eucalyptus. This is the least expensive part yet most people skip it. It's the key to florist-quality bouquets! Use inexpensive greens to start your arrangement. When we "green our base" we're building the skeleton of the bouquet.
Work with flowers from largest to smallest. The larger flowers are the structure needed to support the smaller flowers and make them shine. When you're halfway through add your pear, by sticking a wood skewer into the bottom and placing the skewer into the base.
Cut stems at a 45-degree angle, this increases the surface area to drink water and also makes sure that your stem does not sit flat on the bottom of the vase. As soon as you cut the stem, make sure to place the flower straight into water. Flowers have the ability to scab over – once the scab is formed (which only takes about ten seconds) they do not drink water as effectively and don't last as long.
Strip your roses to get rid of thorns. By stripping the rose, you remove all of the leaves and thorns. We never want leaves in the water as they create bacteria, which will prevent the flowers from lasting long. The great thing about stripping your roses is it also removes the thorns, which makes the roses easier to handle and arrange.
Finish off your arrangement with the textural element, hypericum berries, to complete the look. You always want to finish your arrangement with a textural element. Whenever we create bouquets, there are always holes or places that don't look right when we are finished. Those are the spots we fill in with texture.