Flowers
Breaking Down the Bouquet: Fall Edition
October 20, 2017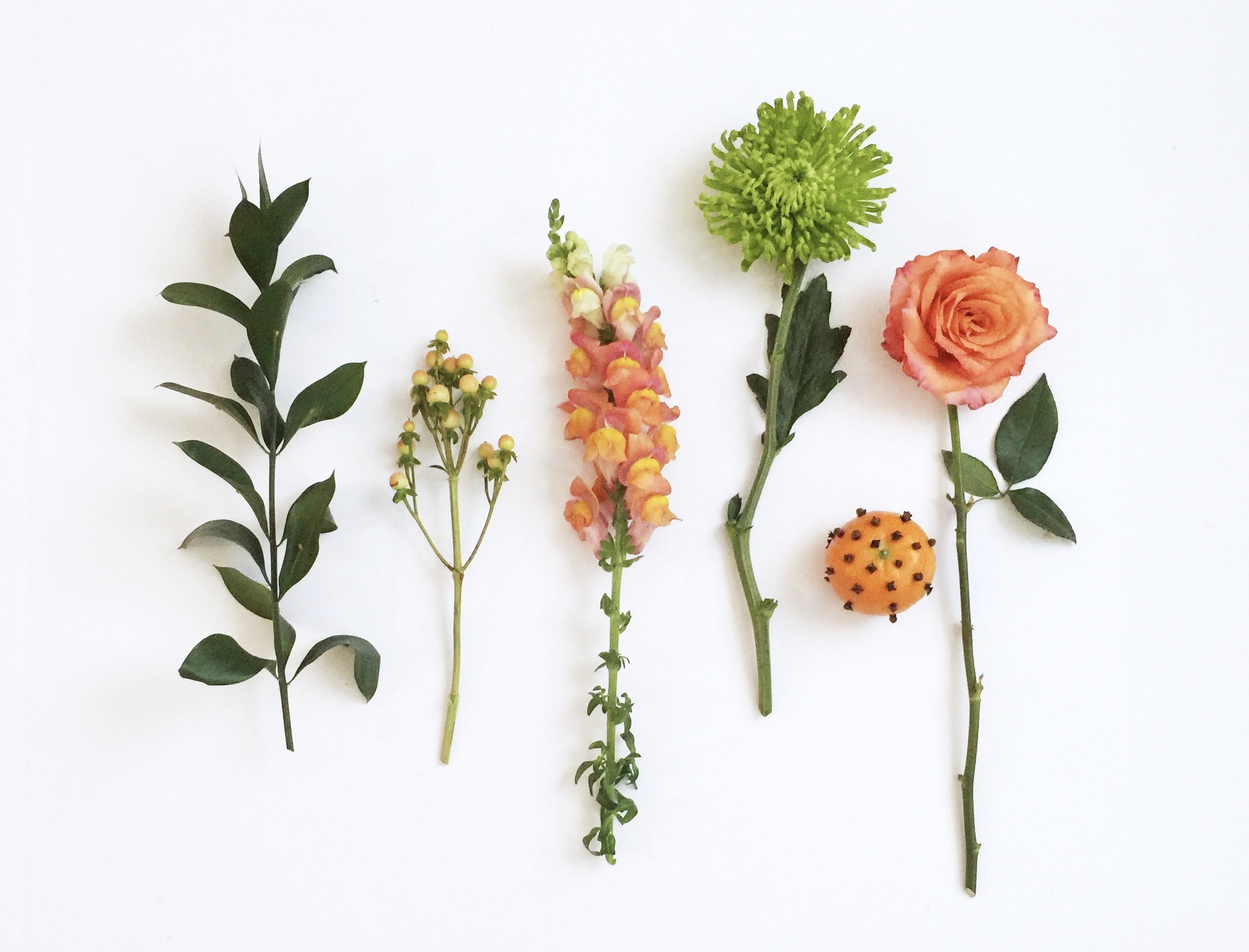 The weather may start to cool, and the parties may move indoors, but that doesn't mean your entertaining game needs to fall short. It's the official season for homecomings and we believe (we'll admit, we're a bit biased on this subject) that there's nothing like fresh flowers to make any guest feel at "home". Plus, with the fall holidays, (dare we say) just around the corner, it's time to perfect your party prep routine. With no shortage of color and character, our Orange Clover recipe has quickly gained popularity in our classes (and in our office!) and will quickly become your back-pocket essential for any occasion!

Head to an upcoming class in your city to design your own, or try your hand at home with some inspiration below!
Ingredients
Israeli Ruscus
Light Green Spider Mums
Free Spirit Roses (or any peach colored rose)
Orange Snapdragons
Lateral Red Hypericum Berries (or any color you prefer!)
1 -2 Clementine's
Whole Cloves
On Choosing Flowers
Often, we assume that the best flowers can only be found in the summer months, but in fact some of the most vibrant (and long lasting) flowers bloom later in the year. By sticking to a simple color palette (coral, orange, and green) we can mix and match a variety of flowers, while keeping the arrangement looking to over the top. Reminiscent of antique varieties, Free Spirit roses blend together hues of orange, pink, and red for a perfectly elegant and luscious look. While Spider Mums and snapdragons add a festive whimsy. Just be weary, snapdragons can cause what we call "horns". To avoid this flower faux pas, simply cluster the flowers together for a fuller look.

On an Element of Surprise
Autumn celebrates the bounty of food and flora, so what's to say that your garden harvest can't be so much more than what's for dinner? A fun, fragrant design element, clementine's are an amazing way to bring your arrangement to the next level. And if that isn't festive enough for your fall spirit, punch cloves into the clementine's surface for an element of surprise. Once you have covered your clementine in cloves, pierce the clementine with a wooden skewer and place in your desired area of our arrangement as a finishing touch.
On Presentation
Autumnal flowers are so fabulous by themselves, that the key to letting them shine, is simply, simplicity. Hide away the scrappy stems in a classic white vase, or if you've got a few minutes to spare while dinner's in the oven, line a clear vase with floral ribbon (easily found on Amazon!). By keeping the vase on the shorter side (we like 5 inches), you'll achieve a bountiful centerpiece that encourages dinner conversation.