Flowers
Autumn-Inspired Floral Arrangement
September 29, 2017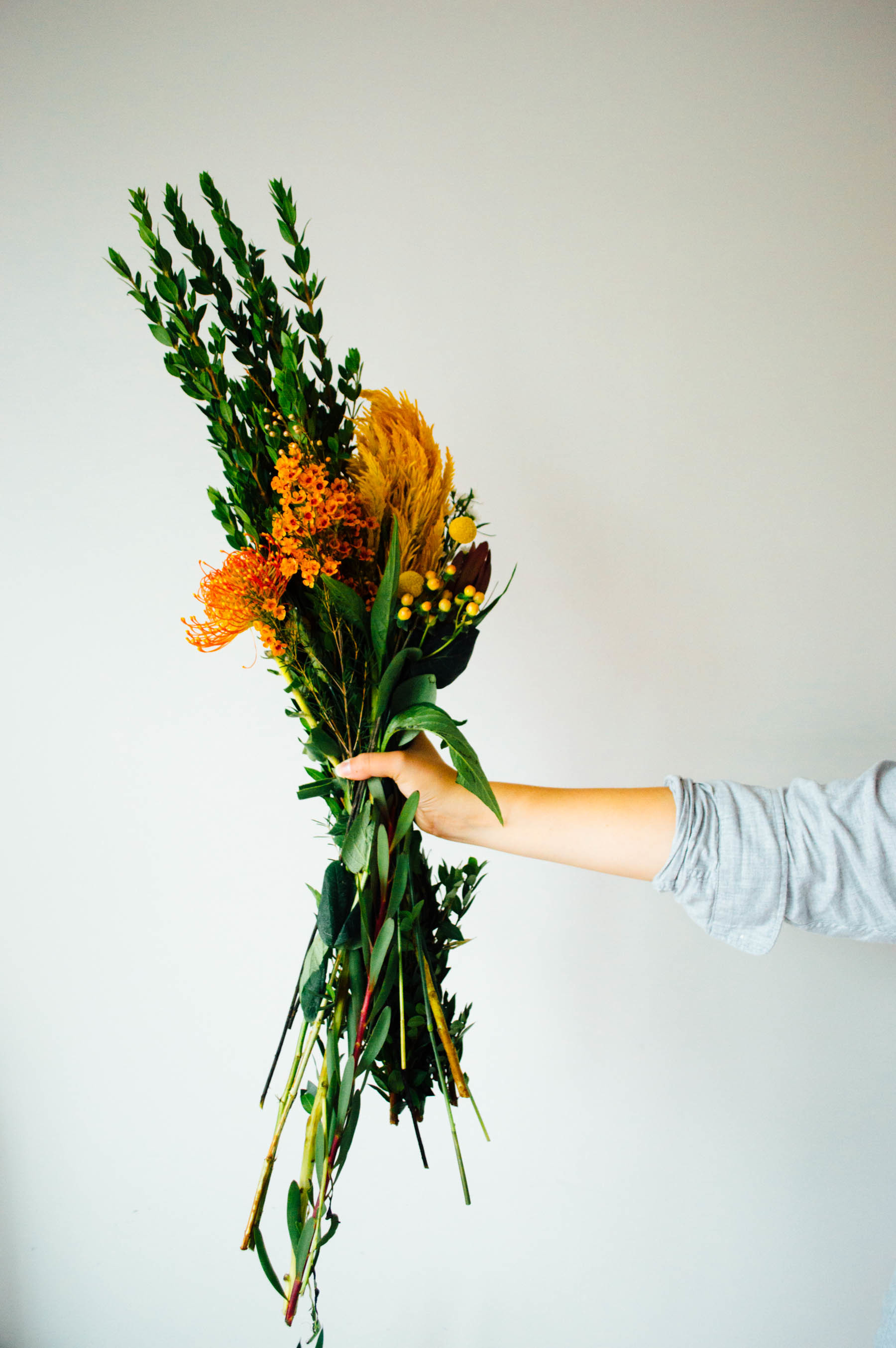 Fall's not over just yet. I know the dropping temps and gray days here in the Northeast might say otherwise, but I'm keeping it going for as long as possible. Example A: This cozy autumn-inspired floral arrangement I whipped up in about 15 minutes
I'm going to let you in on a secret: I don't love the colors of fall on anything but foliage. I'm just not a red/orange/brown gal, what can I say? So I generally stay away from the 'typical' fall color palettes. Instead, I gravitate towards neutrals or even jewel tones.
So what's with this autumn-inspired floral arrangement? Well, instead of totally filling it up with those deep warm hues, I focused on the greenery. Those lush, dark greens. Aren't they just gorgeous?
Build your own autumn-inspired floral arrangement
When building your own fall floral arrangement, try going flower shopping with an open mind. I stopped by my local florist with no real vision in mind - just that I wanted to create an inviting, autumnal arrangement that was a little different than the rest. I carefully selected unique flowers that made a statement and captured my attention. For those types of flowers, I chose to only incorporate 1 or 2 in the arrangement, while for the almost-wildflower looking stems, I picked up 3 or 4.
I rushed home with the flowers (literally) in tow to build my small fall arrangement. I started with a handful of the greens and a low vase, oh and also a kenzan, or flower arranging frog. This thing is a little lifesaver! It's got a heavy, very sharp base which helps keep your flowers standing upright.
After laying out all of my flowers, I started arranging them in hand at varying heights. Then, when I found the arrangement I liked the most, I start cutting down my flowers and placing them in the vase in the order I had selected. Super simple, right? Build your arrangement as you see fit - it's yours! No need to follow 'flower rules' or best practices, just let the creativity flow.
Do you have any grand plans for an autumn-inspired arrangement of your own? I'd love to hear what colors and hues you're loving!
Written by: Gabi Valladares of By Gabriella