AT in the News
Boston Voyager: Conversations with the Inspiring Amy Hincman
July 23, 2018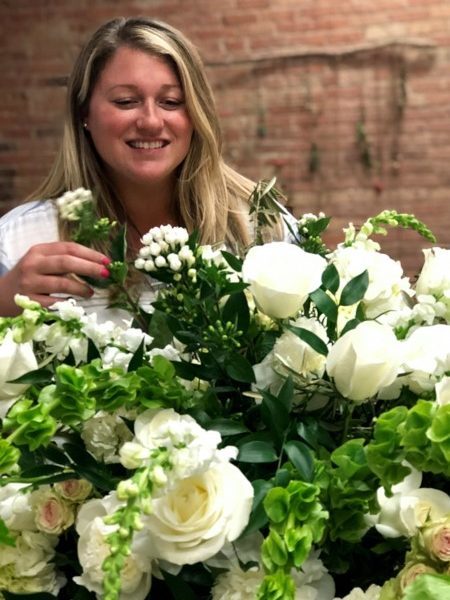 Today we'd like to introduce you to Amy Hincman.
Amy, let's start with your story. We'd love to hear how you got started and how the journey has been so far. It all started with a Moms-Night-Out! I am a mother to two adorably wild little boys and a part-time mental health counselor. I decided that I wanted to take up a hobby, something just for me, so I turned to Google. I have always loved flowers, and thought it may be fun to take a class, I typed in "floral arrangement class" and Alice's Table's website popped up.
Alice's Table was everything I was looking for plus cocktails! I went to the event with a girlfriend and we had the best time! At the event Alice, yes "the" Alice, was teaching that night. We got to talking afterwards and she told me that they have an Event Exec program where women can have their own small business, make your own hours and host fun events just like the one I attended. I emailed Alice the very next day and signed up!
That was back in March 2017 and since then, I have been able to stop working part-time as a counselor and be a full-time stay-at-home mom and event exec. I have collaborated with other brilliant female entrepreneurs, such as Aime Pope from The Painted Pastry and the ladies from Sip & Script. Alice's Table has given me the platform to partner with local small businesses that support the community like Olives & Grace, Urban Grape and The Cheese Shop of Salem as well as amazing restaurants and shops like Gaslight Lynnfield, Bastille Kitchen, Seasons 52 and Paper Source to name a few.
Being part of a community that empowers women and teaches them a new skill is so fulfilling. You can convey so much with flowers; love, friendship, sympathy, joy and I get to be a part of that. I help bring a little bit of beauty into the lives of some pretty amazing people that come to my events and I'm so grateful for that.
Read the full interview with Amy here!