How to Incorporate Flowers in a Gender Reveal Party
August 11, 2016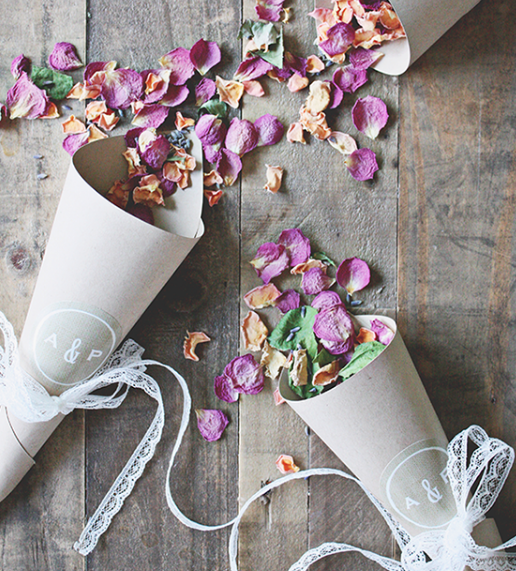 When you think of gender reveal parties, what comes to mind? For me, it's blue and pink balloons, blue and pink treats, blue and pink.....you get it. All of the suspense is built up on whether the reveal will result in 'blue' or 'pink' baby. And isn't it always the same shade of blue and the same shade of pink? It's incredibly impressive, really. However, why not try something different? If you're throwing a gender reveal party this year, give flowers a try. In fact, here are a few ways to incorporate flowers in your upcoming gender reveal party.
Flower Confetti
Want the reveal to be a big surprise for your guests? Try flower confetti! Have your guests pick up a cone full of confetti (with their eyes closed, of course!) and have them toss it up in the air at the same time. If you're hosting your party outside, the flower confetti is eco-friendly (unlike actual confetti), and you even end up with a yard full of flowers. Talk about a seriously awesome photo op. A win-win!
Nix the Traditional Blue and Pink
I've heard from many friends that they want to have a gender-neutral baby shower because they're keeping the sex of the baby a surprise (or they themselves don't want to know until the birth). But, then I also hear that they're tired of everything being green and yellow. My question is, why does it need to be one or the other? Even though you're hosting a gender reveal party, where you're announcing the gender, you can use flowers that aren't necessarily blue hydrangeas or pink peonies. Almost like a gender-neutral gender reveal party! That sure is a tongue twister, right? Incorporate seasonal colors, like warm reds and oranges for summer or dark greens and whites for fall. It is your gender reveal party, isn't it? Use the colors you like whether they fall in the gender-neutral or traditional blue and pink categories.
While these aren't the only two ways to incorporate flowers in your gender reveal party, they're definitely two of my favorites. How will you plan to incorporate flowers in yours? Perhaps a small to-go floral arrangement for your guests or even a floral cake?
Post written by: By Gabriella